Singapore Press Holdings Limited has seen net profit attributable to shareholders fall marginally by SG$0.6 million to SG$53.5 million, or 1.2% against the corresponding period last year (2Q 2016).
Group operating revenue dipped 8.2% year-on-year (yoy) to SG$238.0 million. According to SPH, amid a slowing economy and the continuing disruption of the media industry, the media business saw a 11.9% yoy decline in revenue as advertisement revenue fell 16.8% against 2Q 2016.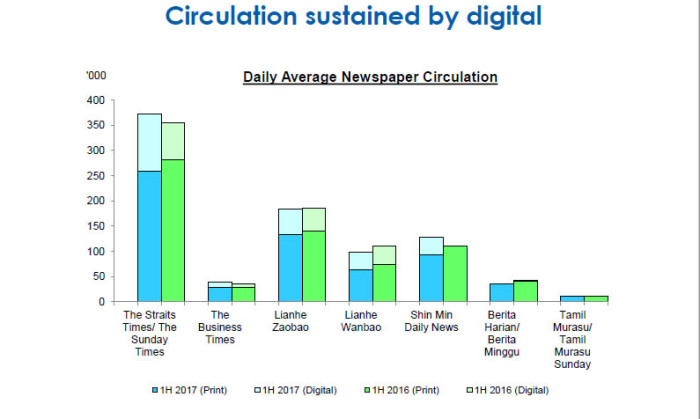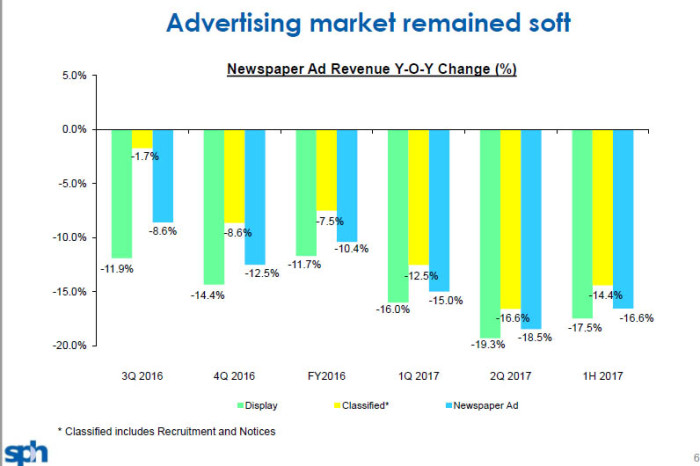 Alan Chan, CEO of SPH, said: "With the uncertain economic outlook and the continuing disruption of the media industry, the group will press on with our transformation strategy. We are making steady progress in positioning SPH as a forward-looking and efficient organisation which can meet the evolving demands of a new marketplace."
Despite headwinds in the retail environment, the property segment continued to deliver steady results as revenue inched up 1.3% yoy. The performance was achieved on the back of higher rental income from the Group's retail assets.
At the operating level, group recurring earnings of SG$53.0 million was 22.2% lower year-on-year. The decline was cushioned by a SG$9.5 million increase in investment income mainly attributable to higher gains on disposal of investments. In addition, the share of results of associates and joint ventures improved by SG$3.1 million yoy, partially due to lower losses from the regional online classifieds business.
Revenue from the group's other businesses rose 6.5% yoy, led by contributions from the online classifieds business.  On the cost front, the Group maintained its strong emphasis on cost discipline.  Total costs for the quarter fell 3.8% yoy to SG$188.7 million despite inflationary pressures on business costs.
For the half year ended 28 February 2017 (1H 2017), group recurring earnings fell SG$43.3 million or 25.9% yoy to SG$123.8 million in tandem with a revenue decline. Net profit attributable to shareholders of SG$99.2 million was $36.2 million or 26.7% lower than 1H 2016.
Chan added: "We continue to focus on our drive to sustain and transform the core media business through investment in growth areas and cost discipline, while also pursuing other opportunities to diversify revenue streams. On this count, we look forward to launching our two new radio stations at the start of 2018."