Consumers today are increasingly avoiding advertising and promotional content, particularly on social platforms, where they seek to indulge their passions and personal interests.
To make social marketing work harder, brands should create content that adds to the entertainment value – and Sony, the Tokyo-based digital camera manufacturer, is hoping to do just that.
In what the company said to be its biggest "soft-sell" initiative on YouTube, Sony has partnered with Carat Hong Kong and YouTube to roll out a campaign "Show Your Dream", encouraging YouTube users to make a video about their dream, with or without the use of Sony products, to vie for a rather amorphous prize –  a chance to make your dream come true with the help of Sony.
There's no solid plan yet for how to actually realise the winner's dream, but the company said, if the winner dreams to be a singer, they will be rewarded a concert experience, for instance, created by Sony.
To kick start the campaign, about 40 famous YouTubers have taken a three-hour challenge to compete for the event championship, including Xueming Chan, Hana, OnFireStudioHK, hangjai and Jason C.
"We ensure our marketing pushes are not a hard sell, because the quality of our products can be better delivered by endorsers, or in this case, popular YouTubers," Simois Ng, head of marketing communications at Sony, told Marketing.
"Through the campaign, we hope to encourage more young YouTubers to pursue their dreams, adding more positive energy to our brand, so to our customers."
Click below image to "Show Your Dream" platform: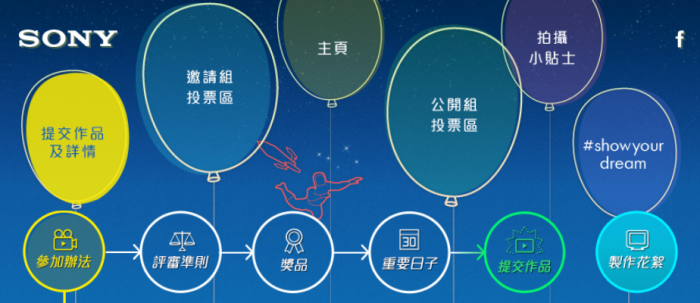 This online campaign echoes with its core value – sending positive energy to audiences – a message that permeates through all of its previous branding and marketing initiative including It's the moment still, In the Dark I See and Don't just like my photos, say your thoughts.