Events are now interpreted in real time.  For example, with iconic historical events such as the first man on the moon, or the Tiananmen Square riots, these were first witnessed by journalists, interpreted by them and reported to the world. But contrasting them to more recent events such as the Arab Spring and the inauguration of Pope Frances, these events were witnessed by non-media people, interpreted by them and shared to the world before news organisations picked up the news, which is a reflection of how events are becoming truly real time, said Twitter's managing director of sales, SEA, Middle East and North Africa, Parminder Singh.
This is why marketing needs to be real time as well, reflecting media consumption.
One example was Oreo at the Superbowl this year(pictured). During the Superbowl, while there was a power outage for a few minutes, Twitter was ablaze with people tweeting about the power outage. Oreo took advantage of this to tweet a post: 'ÄúPower out? No problem, you can still dunk in the dark.'ÄĚ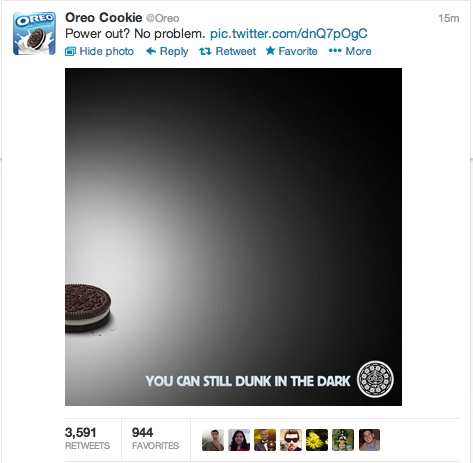 Some argue that this got Oreo more publicity than the millions of dollars they spent on the advertising campaign during the Superbowl, Singh pointed out.
Every marketer should have room for such marketing tactics.
Singh suggests that brands should have a collaborative muscle memory between their agencies and marketing set up for these moments. 'ÄúIt should be so spontaneous that when something happens anywhere in the world, you think 'Äėis this the right moment for my brand to be a part of?'Äô'ÄĚ said Singh.
Planning for the unplanned
While it is not everyday that a major event takes place, there are patterns on social media that marketers should be aware of and can get their brand into. For example, food is a key topic each day on social media, with clear spikes and patterns to it. 'ÄúNow if you'Äôre a food brand or a restaurant or you'Äôre a pizza chain, that spike, that moment is a very clear indication for you to be part of the conversation,'ÄĚ said Singh.
Running is another predictable topic that appears. 'ÄúThere'Äôs a very clear pattern to run and if you'Äôre a sports brand you can know this pattern, know when you want to be a part of this conversation,'ÄĚ said Singh. As for live moments, such a major sporting event, one question marketers may have is 'Äď how do you plan marketing or advertising when results are unknown?
Singh gives the example of how adidas sponsored major football tournament the Champion'Äôs League. Its ad featured footballer Bastian Schweinsteiger, and the brand did not know if his team would win or lost. It prepared two ads, one of him in jubilation, in case the team won, and the other in rejection, in case it lost. 'ÄúWhat'Äôs important here is the brand understood that they are part of the conversation no matter what, whether they win or lose,'ÄĚ said Singh.
Singh advises marketers to think of their marketing planning in a dual stream manner 'Äď working with agencies to develop long term and medium term plans but also to created scope in marketing plans to muscle memory quotient for real time marketing.
Read the full transcription of the presentation in Marketing's special edition The Futurist next month.