What was your first PR gig? Why PR as a career?
During my university years, I did PR for a theatre show in Melbourne. It's been so long, I cannot remember exactly which show it was for but it gave me my first real experience speaking to journalists and thinking about what angles will work with the different media.
I may not remember my first PR gig but I do remember winning my first pitch with the team I was working with at my first job. It was for the launch of the Powerpuff Girls in Singapore with Cartoon Network. I remember when we first met the client, he said each of us seems to represent each of the Powerpuff Girls so I guess, in a small way, we scored the account. Even to this day, I look at the wonderful time I had managing the account with the team and working with the client whom I am still friends with today.
Initially, the idea of always meeting and talking to new people and putting events together were all very intriguing. But PR is definitely beyond all that that. There is a lot of hard work behind the scenes. We are always on the go – exploring new ideas and angles, managing media, clients, third parties, we are constantly churning out pitches and media materials. At the same time, we need to be aware of what is happening around us, such as the latest trends, what's on the news and what's a good venue for an event. I always say PR people are really the most adaptable people around.
Describe your management style?
I believe very much in "leading by example". This is when my team is led by example and not by command. I am also open to discussion and always welcome feedback. I believe the team is learning as much as they can from me and I, in turn, learn from them. Being open allows us to communicate. It is important to be aware of the evolving needs of employees in a rapidly evolving world even as we address the changing media landscape. We have frequent formal and informal gatherings with the teams and assess our HR policies.  This two-way open communication is always key to drive success.  
What would you consider your one big break?
Starting the agency at a young age was something I never thought I would ever do.  It was not a smooth journey. There were many disagreements with my business partner, who is also one of my oldest friends (yes, we are still friends and business partners today!). There were ups and downs with HR issues, client issues and the list is endless. But I learnt, and because I took that (daring) step, I am a better leader today.
Who was the mentor who most influenced you and why?
At different stages of my career, I have different mentors who taught me different things.
When I was interning at my first PR agency – Standfirst Communications, Dannie Francis (pictured left) – who was both my boss and mentor, and was ever so kind. We communicated, we discussed. He never saw me as just a fresh out of school intern, but as a practitioner and really helped me understand the demands of the industry.
Michael Tan, whom I spent a year working with in an events agency, may be the sternest man (after my father) and always (to me) micro-managing. But I came to understand, as an events agency, the client depends on us every part of the way to make sure the event is a success. As such, every detail counts and that was the reason why even as the boss, he could never just let go. He was always around to ensure the best is given to the client.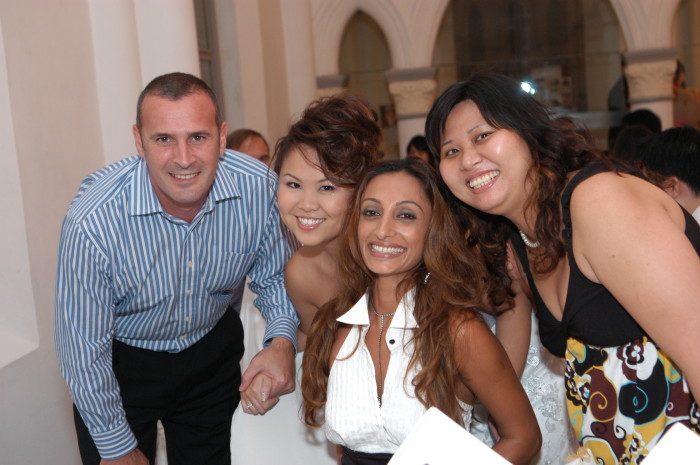 One thing you would say to a newbie in the PR industry?
Ownership. Own the work that you do/you are tasked with. It is only then that you get satisfaction from what you do.
Your biggest blunder in your career? How did you resolve it?
I remember once when organizing an event for a client – I had a group of overseas guests arriving for a performance – I suddenly realized that I forgot to book airport transfer the day before they arrive. And I am talking about a group of 14 people with costumes and luggage, etc! This was late in the evening where most companies are closed for the day. Thank god I managed to pull in a favour from my uncle who owns a fleet of coaches. He spared me one with a driver to pick up the performers. Yes, I was very lucky!
Harshest thing said to you in your career? Harshest thing you have said to someone?
I don't remember what was the harshest thing said to me. If I do, I will be a very unhappy person. Instead, I want to think that these harsh words have spurred me to be a better person in what I do.
And if I ever do say something harsh to someone at work, it is never intentional. I said before, managing people is the hardest thing to do at work. We all have good or bad days and demands from different levels of people. But I have, over the years, learnt to managed emotions at work and I believe, I am in a better space now to not say anything (too) harsh.
What is the hardest part about your job?
Managing people. Everyone is different and every day is different. Even I have good and bad days, let alone the people who are working with me.
How has PR evolved over the last five years?
Online media has taken a spin altogether. We now get happenings even before the news outlets. Facebook and Instagram has narrowed the time so much so that people are forgiving even if the news is not verified by the source.
How do you measure your own personal success?
When my former intern wants to come back and work with me again, does mean I haven't been mean enough but have taught her well for her to want to learn more from me again.
How do you measure the success of the agency?
There is a reason why the agency has survived the last 20 years. Last year, we celebrated 20 years in the industry. For an industry that has seen many agencies come and go, and with the ever changing media landscape, we had old and current clients, past and present media friends and staff who came together and celebrated this milestone with us. This, to me is success.