To celebrate the 20th year of Nike Basketball in China and inspire more kids to break the conventions, Nike China has joined hands with Wieden+Kennedy Shanghai to launch a new basketball spot "I Got Next".
In the spot, two undersized heroes, Chuck and Leon, watch some big guys playing a tough game of one on one. After some apprehension Chuck gathers his courage, stands up and shouts "I got next."
This starts off an endless game of magical one-upmanship as they continually raise the stakes by challenging each other to bigger and bigger games until they end up in the finals of a high school basketball league where the game might not ever end.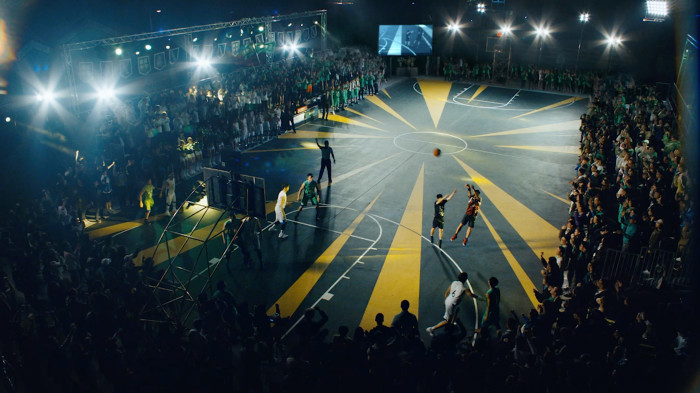 "Our inspiration came from the old Chinese saying 'Young calves aren't afraid of tigers' – the new generation of Chinese basketball players who've broken free from the conventions," said Leon Lin, planner of W+K Shanghai.
"It takes a lot of courage to put yourself out there. You might fail. That's why we really wanted to show what's at stake and what motivates our hero to get up and go for it again," said Terence Leong, creative director of W+K Shanghai.
Directed by renowned commercial director Stacy Wall, who also shot Nike China's "Give me the ball (2013)", the spot integrated manga culture, video game elements, Chinese internet slang, street ball basketball cameos and hip-hop music to appeal teenagers.
"We knew when we set out to make this campaign we'd have to both be a part of this internet culture and stand out from it," said Shaun Sundholm, creative director of W+K Shanghai. "That led us to the basketball fever dream world of I Got Next where we blur the lines between an authentic basketball reality and magical realism where anything can happen."
Credits:
Client: Nike China
Campaign: 2017 Nike Basketball Brand Campaign
Main anthem: I Got Next
Agency: Wieden+Kennedy Shanghai
Executive creative directors: Ian Toombs, Yang Yeo
Global creative directors Nike: Alberto Ponte, Ryan O'Rourke, Dan Viens
Creative directors: Terence Leong, Shaun Sundholm
Art directors: Raul Arantes, Timothy Cheng
Copywriters: Shaun Sundholm, Cook Xu, Liu Wei
Global integrated production director: Matt Hunnicutt
Director of integrated production: Angie Wong
Head of content: Bernice Wong
Global account director: Chris Willingham
Business director: Dino Xu
Senior designer: Patrick Rockwell
Production manager: Vic Zhang
Production company: Imperial Woodpecker