Since flunking law school and stumbling into advertising, managing director of Saatchi & Saatchi Arachnid, Chin Weng Keong has carved a name in the Malaysian, as well as Asian industry after building Arachnid from scratch.
Since the agency's well-publicised acquisition by Saatchi & Saatchi in 2012, the agency has done well for itself. Advertising + Marketing talks to Chin on his leadership philosophy, managing talent and what's wrong with the industry's manic love for scam in awards.
Describe your management style
Pretty intense as I try to unconditionally uphold the highest expectations at all times and to always do the right thing, not what's most convenient, face-saving or profitable. It's all about whether we are doing the best work possible in any given circumstance. I'm not keen on protocol and hierarchy.
I dislike people calling me "boss" and will threaten to call them "employee" if they don't stop. I believe in nothing else than meritorious career advancement and will quash any attempts at advancement through politics. So yeah… pretty intense but I'm also just a regular, somewhat introverted guy who just wants to hang out with like-minded people and enjoy stuff. It's spilled over into our culture – we don't take ourselves seriously but when it comes to work that best serves our clients… that's something we're super intense about.
Career path
My advertising career started while going through law school (which I later unceremoniously flunked), working as a freelance copywriter in a small local agency. I was a complete green-horn and thought that writing leaflets, flyers and a commemorative coffee table book for CHOGM was the bomb!
I then decided to quit law having found my calling and found my way into a freelance copywriter job at JWT (which I was willing to accept no pay for, but luckily there was a small allowance involved), which became full-time employment before leaving as creative group head in 1996 to start up Arachnid which I've been running ever since.
In the early days we had one employee – myself – account manager, art director, copywriter, programmer, tea lady all rolled into one sleep-deprived, hideous package. Because I started with RM3 capital, the luxury of hiring help only came about from organic growth which we have been really fortunate with, never having borrowed a single sen nor having run any year at a loss or laid off anyone despite all sorts of economic challenges.
Your first job?
First job ever was part-time banquet waitering in Shangri-La Hotel… I truly suck at deboning a pomfret in front of impatient, hungry diners and so I did the world a great service by not pursuing this. While in law school I also interned as a legal clerk which further convinced me I would be a terrible lawyer too. In any case I had wanted to be in advertising for quite a number of years prior, but not coming from a rich family with funds to study marketing communications overseas nor the academic results to do so on a scholarship, reading law locally on an external programme seemed like a sensible, substantial, yet affordable thing to do.
Who was the mentor who most influenced you and why?
I've had so many mentors it's hard to single out the most influential one.
Obviously my previous bosses while at JWT – Jennifer Chan, Soon Cheng Sun, Ian Tan, Mohd Shah all come to mind. I also learned from observing other good friends in the industry – people like Kent Wertime (Ogilvy), Khairudin Rahim (Lowe) and most recently Paul Roebuck (Saatchi & Saatchi). But I think my most trusted mentor, confidante, advisor and best friend has always been my wife. She used to be in advertising too but despite not being in a senior management position, she always offers the most lucid clarity and simplicity, regardless how complex my burden seems to be.
Proudest moment in your career
Again, it's hard to single out a superlative one. There are the big, obvious moments such as concluding the acquisition of Arachnid by Saatchi & Saatchi Singapore. Or seeing our people's efforts get recognised by winning 16 client-judged A+M AOTY titles across six agency categories in the last six years. But it's probably the "smaller"  moments that are more gratifying – watching a star ex-colleague achieve greater heights elsewhere, someone buying a car they've been wanting for a while, or someone taking their parents on a wonderful holiday from the bonus they earned. Knowing that you had a small part to play in making those moments possible is deeply rewarding.
Your biggest blunder in your career
I think if you ask me that same question every day, I would have a new answer for you each time from the previous 24-hour period alone.
When you're not working, what will you be doing, aside from spending time with the family?
I have a weakness for cars and the joy of driving. Not necessarily driving fast (unless it's on the race track) but just enjoying the handling and communication that comes from a good driver's car.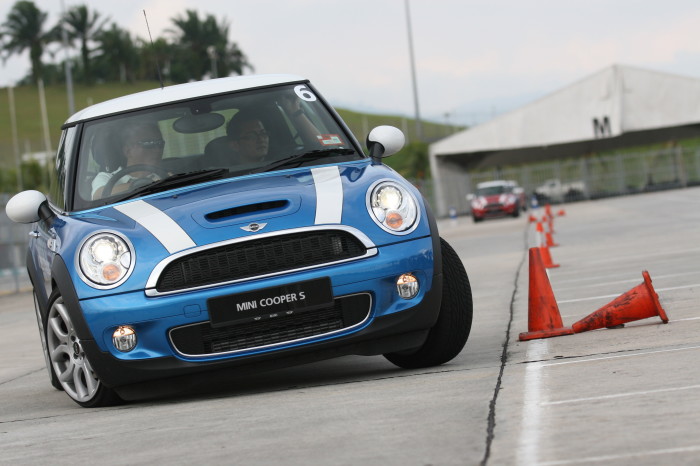 Harshest thing said to you in your career
Whilst interviewing for a job in my first large agency (before JWT), I had an ECD tell me that my spec book was "all crap". I was offended at the time, but several years later I realised he was right. Actually he was probably being generous. I now appreciate how important it is to be straight-talking and not to baby talent with kid gloves.
When you were a newbie in the industry, did you dream you would be lead the agency one day? What kind of leader did you want to be and how closely have you stuck to it?
No I didn't. I was hoping one day I would be creative director and life would have been complete. I thought I would be a magnanimous leader, one who's forgiving, easy-going, never the driver, always the humanitarian, loved and revered. Scientifically speaking, I have achieved about 3.72% of that.
Craziest thing your staff has told you
That they enjoy the rigour of working in our team. I tell such people that they need to get a life.
One thing you would say to a newbie in the industry
Get out while you can!
What's the toughest thing about your job?
Watching a star talent leave and flounder from then on.
One thing you hate most about advertising?
Scam work for the sake of awards. In my opinion, it's a blatantly ill practice and definitive evidence that the industry has lost its way. What we do is not art. It's salesmanship, commerce. Clients pay us to better their businesses, not to better our own self-serving awards shelf. Coming up with random, unconstrained ideas and then finding a client to support it is a cheap trick to look good. If it's not a real response to a real brief from a real client, I have no respect for it.