While digital's share of measured ad investment in media is set to grow, the effectiveness of these investments is impaired by integrity of digital supply including fraud, viewability and measurement and adblocking.
Findings from the latest Interaction report by GroupM suggests that correspondents reported a lack of hard facts on the state of adblocking.
However, 19 countries reported figures on the percentage of users with adblocking technology installed on their devices.  Countries with the highest percentage of consumers using adblocking tech included France, Poland and Austria – each reporting greater than 30% of users.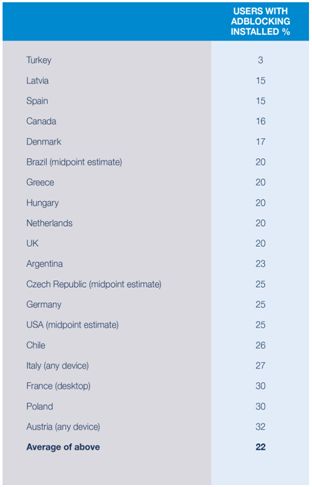 "The rise in consumer adoption of adblocking technology violates the inferred consumer contract with content owners, which enables ad investment to support content development. For this reason, and its potential to inhibit brands' ability to reach their audiences, it merits close study and preventative measures," Adam Smith, futures director, GroupM said.
"We have much farther to go in understanding the true impact of adblocking as estimates of lost inventory are scarce.  We will be tracking closely the progress of initiatives like the IAB's LEAN program in the U.S. which encourages publishers to develop light, encrypted, ad choices-supported, and non-invasive advertising strategies to reduce page latency and other nuisances that may encourage the adoption of blockers," he added.
In addition to ad avoidance, here are some other concerns:
Integrity of Digital Supply: Impression and non-impression-based ad fraud remain concerns and risk varies by market.  GroupM recommends working with trusted partners, use of pre-bid controls in unknown markets, development of specific contracts and reliance on verification tools and vendors.
Use of Apps: A majority of smartphone users have between 30 to 50 apps installed, and this rise of app usage is a challenge for advertisers. Emerging, more interactive, app-native ad formats hold promise.
E-commerce: Globally, e-commerce is expected to reach USD1.81 trillion (8% of global retail), up from 1.57 trillion in 2015. E-commerce strategies enabling transactions anywhere and anytime are on the rise and will become the norm.
OTT TV: TV consumption is increasingly non-linear, particularly with younger audiences. However, correspondents reported comparatively minor shifts in investment due to a prevalent lack of understanding about non-traditional formats and lack of standardised audience measurement around digital video.
Applying Data: Correspondents reported that the accessibility, the collection and the application of data from owned and third-party sources remains an imperative and a challenge for many clients.
In the report, GroupM predicted that digital advertising in 2016 will comprise 31% of measured advertising investment in media, up from 28% in 2015. In 2015, 37% of display ad investment was transacted programmatically, up from 21% in 2014, it said.