Websites owned by Globe Telecom were allegedly defaced by Filipino hackers yesterday in protest of the telco giant's poor internet service.
The breach was caused by local hactivists that call themselves "Blood Sec Hackers." Technology blog Coorms.com broke the news yesterday, reporting that the websites were vandalized with this message, threatening Globe that "this is just the beginning" and to "do something or expect the consequence."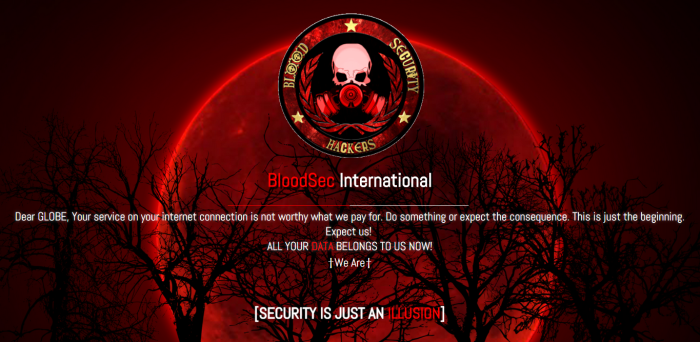 In a statement to Marketing, Globe confirmed that mybusiness.globe.com.ph, payroll.globe-csme.com, duointernational.globe-csme.com, and update.globe-csme.com, all hosted by a third party vendor Movent, were hacked. The telco detected the breach at around 10:00 PM yesterday but it did not identify Blood Sec Hackers as the perpetrators.
Globe assures that no critical customer data were leaked since the affected websites are only used for advertising and marketing purposes and are not connected to any of the private internal customer systems. It also said that its own Globe-hosted websites were not compromised.
"The server where the four websites are hosted are managed by a third party partner and outside of the Globe Corporate and Enterprise Network, where appropriate preventive and detective controls are in place. The attack is isolated on their end and was brought about by an unpatched vulnerability which is currently being addressed. Rest assured, our security incident response teams are currently investigating and conducting forensics in various areas to make sure that the incident is properly managed." said Globe Chief Information Security Officer Anton Bonifacio.
Globe said that the websites were taken down immediately to conduct the appropriate security checks. As of 4:00 PM, the affected websites are still barred with this notice.