Millennial mums use their mobile phones to provide inspiration and support for themselves and their families, said the latest CCS data, taken from Dentsu Aegis Network's global consumer study.
The study also found that millennial mums are heavily reliant on digital and mobile technology. In the US, China and Singapore 1 in 8 millennial mums access the internet daily using two or more devices. Furthermore, mobile phone penetration is universal amongst the same audience in Indonesia compared to just 76% penetration amongst the total population.

Addicted to mobile
We also see significant numbers of millennial mums claiming that they are addicted to their mobile phones.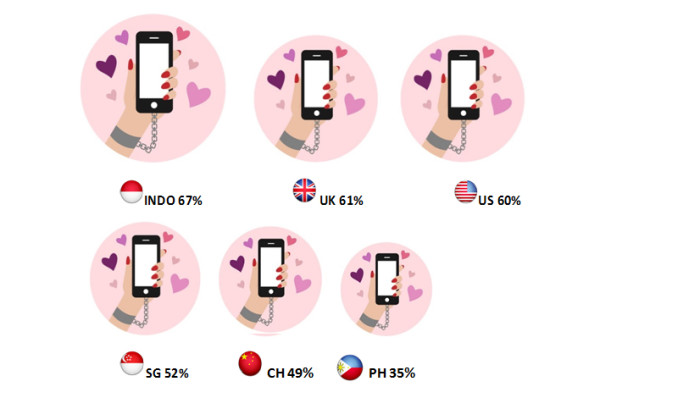 Image: % of millennial mums that agreed they are addicted to their mobiles
This translates to young mums spending over 10% of their waking hours on their mobile phone rising to a staggering 25% and 30% in the Philippines and the UK respectively.

Mobile phones are also a convenient way for mums to make purchases; a quarter of Chinese mums, more than a third of mums in the US, and half of Singaporean mums claim to be sold on mCommerce. With the point of purchase literally in hand a mobile phone is also an apt way for marketers to reach a lucrative and receptive core audience.

How do our mums pass the hours on their mobile phones?
In an average week more than half of millennial mums are accessing social media via mobile. They are also consuming content while on the go; in our the most digitally advanced market Singapore, 46% of mums are watching TV programmes and 37% of mums are watching online videos compared to 23% and 30% in the US respectively.
And our time poor mums are making the most of every minute by using their phones anywhere and everywhere including during their most intimate moments. This includes 'in the bedroom'!

Mums in the US are most likely to admit to taking their phones to bed with them, with almost a third of 18-24 year old mums divulging that they have used their mobile phones during sex. Mums in more traditionally perceived countries like Singapore and China followed closely behind the US with 27% and 24% respectively.
While mums in the UK were the most conservative with only 10% of millennial mothers admitting to sneaking a peek at their emails during romantic time. Indonesian mums maximize their time by praying and posting (over two-thirds of mums confess to this). Similarly over half of mum across markets have used their bathroom break to browse the web.