Coconuts founder and managing director Byron Perry says sponsored content is the way forward for media companies hoping to be financially sustainable.
"You can't sustain an online media outlet that takes serious money to produce its content from display ads and ad networks alone," he said.
"Sponsored content is much more engaging than traditional advertising. It is content that people think is cool and want to share anyway, and the reader would have a positive brand association just because they like the media platform."
Headquartered in Bangkok, the regional media site was founded in 2011 and was operated from Perry's apartment. Today, it has more than 22 full-time staff and freelancers across the cities it covers, including Hong Kong, Singapore, Bangkok, Kuala Lumpur and Manila.
It produces original news stories, uses' user and social media-generated content and aggregates online news pieces that appeal to urban and educated young people who demand English-language lifestyle news.
In its peak month, it has garnered about 1.5 million readers regionally, with Manila being its largest site read by 500,000 to 800,000 users a month, followed by Bangkok, which has about 300,000 to 600,000 readers.
Coconuts' first piece of sponsored content was a piece about peculiar sights and attractions in Bangkok for Hendrick's Gin, which embodied the brand's spirit rather than serving as a piece of brand journalism or a story that only discusses the brand's products.
"Just because it's sponsored by the brand doesn't mean it's all about the brand. It should be something engaging for the reader that isn't hard sell. The best-case scenario is when you work with a brand that jives well with your readership and the style of content you are producing for editorial. It shouldn't detract from your editorial content," Perry said.
The sponsored content is created by a separate team from the editorial team. It is always clearly marked as sponsored content and can include product placement. Currently, sponsored content makes up the majority of the news site's revenue. Below is a sponsored video produced by Coconuts for motorbike company Vespa in Thailand:
Here is a story which is part of a series of food stories sponsored by private car service UberX in Singapore.
Perry hopes that in the future, about half of the content on the site will be sponsored content of this nature, and he will charge higher prices to stop sponsored content from taking over Coconuts. Plans to launch sponsored content on the Coconuts site in Hong Kong is also in the works which is when Perry says he will stop accepting ads from ad networks to get people to pay for sponsored content instead.
The toughest part of doing sponsored content is demonstrating the return on investment to prospective advertisers.
"We really need to demonstrate the ROI, which affects the advertiser's bottom line. We don't have an exact metric, but some sites measure the number of people times the amount of time on-site. This means that 5,000 people reading your content for five minutes each shows greater impact than one million people viewing it for just a few seconds," Perry said.
"The other way of measuring it is by the number of shares – how many people shared and tweeted about your page on social media."
Social media has also played a major role in the news site's marketing campaigns for itself, including Facebook posts, YouTube videos and some paid ads on Facebook. The rest of its marketing strategies include content-sharing with Yahoo, guerilla marketing and content-partnerships.
In one guerrilla marketing campaign, Coconuts gave away free sunglasses carrying its logo and URL in Bangkok. As for content-partnerships, in May, the news site gave out 2,000 coconuts at a technology event in Singapore.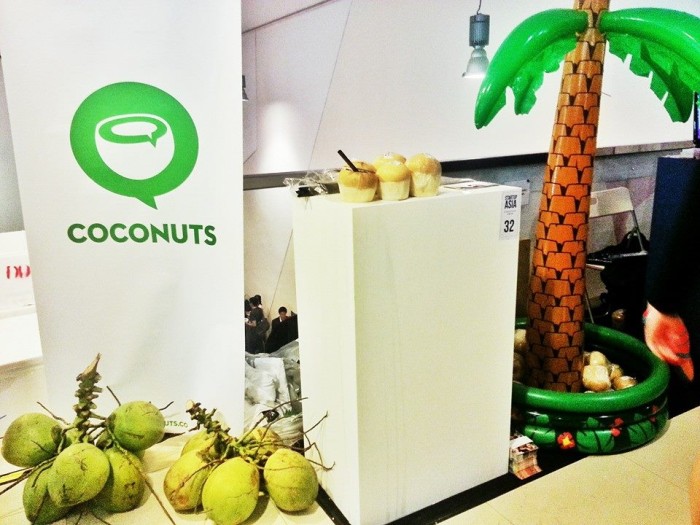 Perry hopes to expand his business into creative production services where it will produce creative projects such as sponsored content that clients have full control over and will be placed on non-Coconuts channels.
"We already have the capabilities to do design work and video production – it's just about developing it into production services that would be offered by a creative agency," he said.
In terms of geographic expansion, Perry plans to open Coconuts sites for Jakarta, Bali and Yangon by Q3.
"Yangon just opened up and the media has been loosening up, with people starting newspapers there. But not many people are starting websites and I think the young generation there will skip newspapers and go straight to online.
"As for Jakarta, it's a big city with an enormous online population and a growing middle class while Bali is a major travel destination."
Next up after these cities is Mumbai, and potentially Bangalore and New Delhi, where at least one Coconuts site is slated for opening in Q4.
"It's not that difficult, technically speaking, to launch a website. The hard part is finding a great editor and getting content up to speed."
However, Mainland Chinese cities are not on the roadmap for Perry.
"We are not planning on launching in China because they have no freedom of the media and Facebook – our biggest driver of traffic – is blocked in the country."
With Coconuts' only physical office in Bangkok right now, Perry plans to set up an office in Singapore.