In the age of digital and social media where digital interactions are instantaneous, real time marketing is sometimes necessary to catch the eyes of internet users and push forward the brand's name. However, the recent saga involving Paktor shows that such efforts can sometimes backfire.
Two days ago, Paktor offered the handsome Lee Minwei who recently went viral, a chance to be match made with female fans. Lee is a corporal in the auxiliary police force at Certis Cisco who currently does security work for Changi Airport.
Unfortunately, Paktor did not seek Lee's permission in the use of his image. This eventually resulted in the Karyn Low, AVP of corporate communications at Certis Cisco asking the dating app publicly to pull down the image. She said on the Facebook post:
"Dear Paktor, kindly remove this photo. He did not give his consent. I am the AVP, corporate communications from Certis Cisco. Thank you."
In response to a Certis Cisco employee's request, Paktor took down the image and issued a statement on its social media page.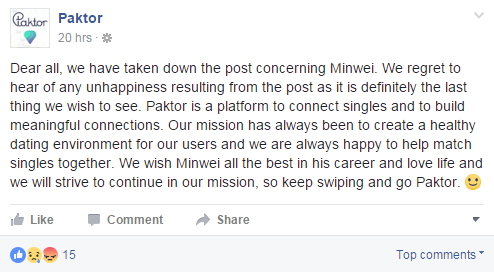 Speaking to Marketing, Certis Cisco's Low explained that their priority was the privacy of their employee. When asked if the use of the image by Paktor would impact Certis Cisco's brand image as a security provider, Low simply said the company's first priority was to protect the privacy of their employee.
She added:
"Minwei's photo was used by Paktor without his consent. As such, we requested on his behalf to have his photo removed."
According to Lars Voedisch, managing director, Precious Communications said that Paktor reusing a photo without permission by the owner is a possibly copyright infringement. Moreover, one could argue that the young gentlemen, Lee Minwei, doesn't qualify as a person of public interest – hence it would have been necessary ask the individual himself as well for his permission.
"Cisco most likely only gave permission to Changi to feature one of its officers in the clear context how it wants its brand to be featured. I would assume that being portrayed for a dating app is not what they had in mind," Voedisch said.
Hence, he added, "it is very understandable that a brand like Certis Cisco, who represents professionalism and authority, might not want its clients wondering if their security officers might be more focused on the next date than dutifully looking after the tasks assigned."
However other PR professionals argued that the way in which Certis Cisco reached out to Paktor could have been better.
In a conversation with Marketing, Edwin Yeo, GM of SPRG, said that in principle, Certis Cisco's request was not unreasonable, particularly since their officer didn't give consent to the photo being used. He added that there is also a question of whether they had a right to use the image for their own marketing purposes.
Probably the only thing I would have done differently is to reach out to Paktor privately rather than post the request as a comment.
Agreeing with him is Jacob Joseph Puthenparambil, partner at Redhill, who took issue with the fact that an employee's personal Facebook profile was used to deal with the matter – even if she was the AVP of communications.
"From a communications standpoint, I find it quite odd that Certis Cisco would ask Low to address Paktor's Facebook post using her own account. Doing so makes the response look rather weak," he added
Ideally, he said that the Certis Cisco should have dealt with the issue internally and reached out to Paktor in a more official fashion to be consistent with its image as a security provider. He added that Certis Cisco should have contacted its legal department and have the objection sent across formally.
If you wish to nip something such as this in the bud quickly, why do it so publicly in a domain which can be picked up by other media outlets? This only adds fuel to the fire.