Zenith has relaunched its brand identity, proposition and platforms, in line with a new global approach to communications that it is undertaking. This moves away from its roadmap approach to planning, which the agency explained no longer supports its ambitions and client needs.
When reached out to by Marketing, the agency confirmed that there would be no restructure and teams will remain. It is also in line with the overall Publicis Media image, which provides capabilities such as data, technology and innovation, content, trading, performance, business transformation, and analytics, research and insights.
"This ambition has led our talent embarking on a transformative learning journey to upskill themselves, and our successive new business wins of iconic Singapore brands in recent months," Helen Lee (pictured), managing director, Zenith Singapore, said.
The move also follows its most recent local account win of Singapore Tourism Board, which saw six agencies vying for the account, which saw the board moving its media account from MEC to Zenith.
Called ROI+, the new approach is designed to solve business challenges though advanced communications models. This will be led by Zenith's global brand president, Vittorio Bonori, and is the most significant development for the network since the launch of its ROI Agency positioning in 2002.
Building on The ROI Agency positioning, the agency has a new mantra: "We blend data, technology and brilliant specialists to scout out new opportunities, solve complex challenges and grow client business".
The new agency proposition sees Zenith's 'peak' logo re-imagined as a framework and is supported by new colours, fonts and photography that aims to set a differentiating tone across all Zenith's brand assets around the world. Meanwhile, Zenith's global website has also seen an overhaul.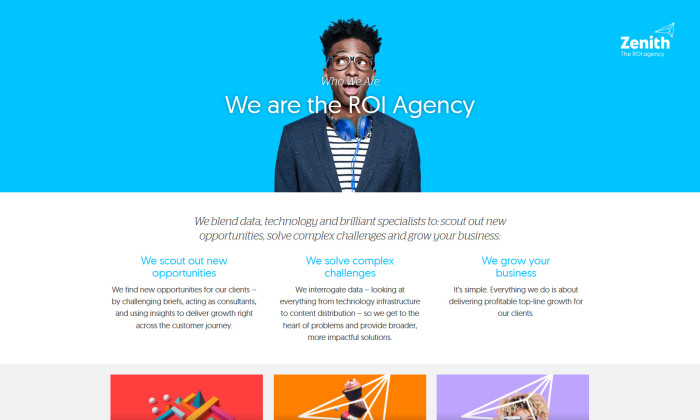 According to Zenith, the approach also has three key client benefits to deliver more effective campaigns and taking a longer-term consultancy approach, building long-term capabilities.
The first pillar looks to create upstream strategies that deliver business transformation. This leverages the expertise it has in building capabilities for clients in for example, ad-tech consulting.
The second pillar looks to focus on the full consumer journey to deliver more effective communications strategies. Through ROI+, the agency is looking to shape a more holistic approach that can take advantage of people-based and platform-based marketing in consumer experience work.
Lastly, the third pillar looks to maximise downstream efficiencies. ROI+ enables us to apply sophisticated automation through AI and machine learning techniques.
"We are the first agency to put ROI on the map. This is an evolution, but with revolutionary thinking. Focused on the consumer journey, creating and orchestrating a range of marketing capabilities to deliver business results for our clients," Lee added.
"We have a vision for delivering transformational growth for our clients and this required a new way of working that embraces both technology and invention. I believe that Zenith's new proposition and brand identity builds on our distinctive ROI positioning and sets us further apart from the competition," Bonori said.