Nike came out on top as the brand with the most World Cup-related digital content engagement. Coming in a close second was Apple with almost 100% engagement as much as Nike, and adidas with 93%. Making it into the top five were also Puma (45%) and Umbro (42%).
This was according to data by Amobee Brand Intelligence, which analysed more than 60 billion global digital content engagements across social, web, mobile and video between 14 June and 15 July 2018.
One of the top stories that led to online mentions of Nike was the Nike-sponsored Nigerian World Cup kits selling out. Another story that generated conversation around Nike was also the fact that it was unable to provide the Iranian team with cleats due to US sanctions. The brand also made news after three English players were fined for wearing football socks brand Trusox over their official Nike socks.
Meanwhile, Apple stood out mainly due to Apple TV, as the digital audience was looking for ways to stream tournament games online. The fact that most football players used AirPods also made Apple stand out from other brands. Adidas received mentions online as it was largely associated with creating the official game ball of the World Cup.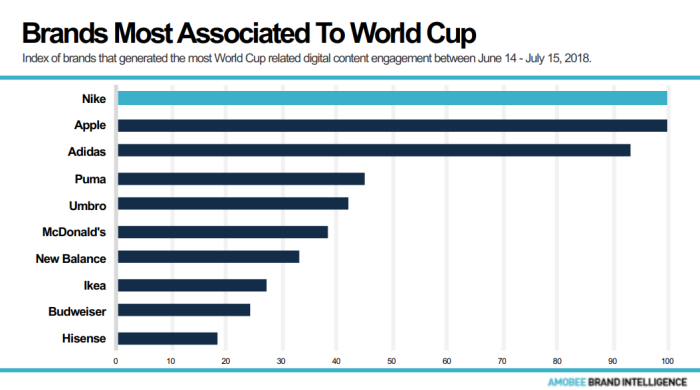 This year's World Cup saw a few Chinese companies coming on board as partner (Wanda Group) and sponsors - dairy company Mengniu and electronics manufacturer Hisense and smartphone company VIVO. Among all, however, only Hisense made it to the list of top 10 brands most associated with the World Cup, which saw it garnering nearly 20% as much engagement as Nike.
Even so, Amobee said "there is no question" that the English-speaking world has become more aware of Chinese brands as a result of the tournament sponsorship. Comparing 13 May to 13 June and 14 June to 15 July, digital content engagement around Mengniu increased by 239%, while Wanda Group saw a 70% increase.
Despite not making it into the top 10, Trusox saw an increase in digital content engagement by 9,617% during the World Cup as compared to before, when the English players were fined for wearing its brand over their official Nike socks.
Additionally, interest around IKEA peaked after England defeated Sweden, with digital content engagement around IKEA increasing by 121% on 7 to 8 July compared to 5 to 6 July. It also won much acclaim by congratulating England with an ad featuring the words "Congratulations England, hats off to you", coupled with a picture of an IKEA coat rack and hat.
Earlier this year, FIFA struggled to find sponsors for the tournament. There was also fear among prospective World Cup sponsors that scandals around FIFA and the host country of Russia would overshadow brand initiatives during the tournament. According to Amobee, the fear "was not entirely unfounded". Nike's World Cup digital content engagement, for example, was 66% more scandal-related than it was Nike-related between 14 June to 15 July 2018.
Jonathan Cohen, Amobee principal brand analyst, told Marketing that the most valuable marketing football platform was the players themselves and what they were wearing. This is because many of the brands associated with the World Cup were either apparel giants such as Nike and Puma, a technology company such as Apple and a newsjacking startup such as Trusox.
"However, even without that advantage, Chinese companies such as Mengniu and Wanda Group were breakout successes at the tournament, leveraging the World Cup platform to generate mainstream awareness outside of Asia," he said.
Cohen added that for companies that are using a tent-pole sporting event to generate initial awareness among a new audience, a digital retargeting campaign will help solidify both overall brand recognition and brand association to that event.
Read also:
FIFA World Cup a 'landmark opportunity' for brands to target women
FIFA struggles to find sponsors and partners despite impending World Cup
(Photo courtesy: 123RF)