Tourism dollars today are key to international commerce. The industry has experienced continued growth over the past few years and is one of the fastest growing sectors. According to the World Tourism Organisation, the business volume of tourism equals, and at times, surpasses that of oil exports, food products or automobiles.
Once, and still considered the hub of Southeast Asia, Singapore gets almost 80% of its visitor arrivals from Asia Pacific. This is according to the Singapore Tourism Board's "STB Marketing Strategy: Of Stories, Fans and Channels" report.
More data from STB showed that Indonesia came in top in terms of tourist arrivals in 2016, with 2,894,000 visitors coming to Singapore.  Nearly 438,000 came from seven "tier two" Indonesian cities such as Surabaya, Bandung, Medan, Semarang, Palembang, Makassar and Pekanbaru, an 8% increase from 2015.
Coming in narrowly in second place in terms of visitors was travellers from China, which saw 2,864,000 visitors. Compared with 2015, there was an 11% increase of visitors on mono-Singapore trips of 737,000 visitors in 2016.
Meanwhile, Singapore also saw 802,000 visitor arrivals from 16 "tier two" cities such as Chongqing, Fuzhou, Haikou and Kunming, to name a few. This was a 53% increase compared with the year before.
However, the little red dot is now facing intense competition from countries regionally as more and more travellers look to explore untouched terrains.
The STB report also said there was a lack of understanding of what Singapore is as a nation and destination. This is entrenched with perceptions that are often dated and not truly reflective of the nation's character. Often, at times, it is misperceived as "boring and expensive".
But despite being deemed as such, a Brandscapes study found the red dot still came in top when it comes to attracting repeated travellers, coming in first in the region at 75%.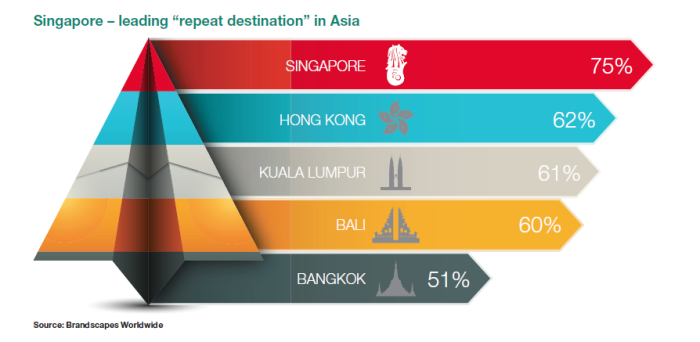 Second on the list was Hong Kong and third was Kuala Lumpur. These results were complementary with data from STB, which shared that in 2015 about 60% of Singapore's visitor arrivals were repeat travellers. The city-state also secured a total of SG$24.8 billion in tourism receipts for 2016, which was a 13.9% increase from the year before and saw 16.4 million international visitors, a 7.7% increase from 2015.
STB attributed this to major developments in Singapore such as Gardens by the Bay, two integrated resorts and world-class events such as the Formula 1 Singapore Airlines Singapore Grand Prix, which all attracted international attention.
Top tourist attractions
According to Brandscapes, Singapore currently owns six out of the top 11 tourist attractions in Asia. In fact, the top four attractions listed in the study, namely the Merlion, Sentosa, Changi Airport and Marina Bay Sands, all belong to Singapore.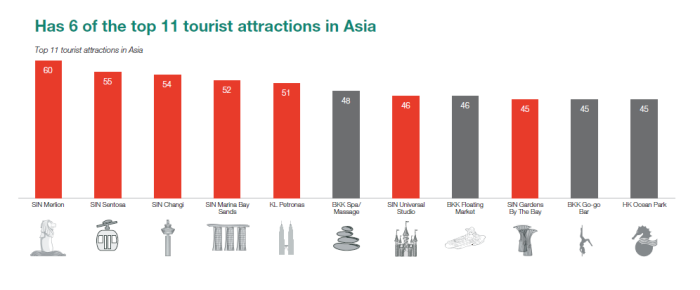 The country also leads in areas such as luxury shopping, cruise trips and fine or experiential dining when it comes to market-wise associations with travellers, according to Brandscapes.
STB agreed with the sentiment towards Singapore's cruise ship scene, with data stating that in 2016 Singapore saw a 16% increase in cruise passengers.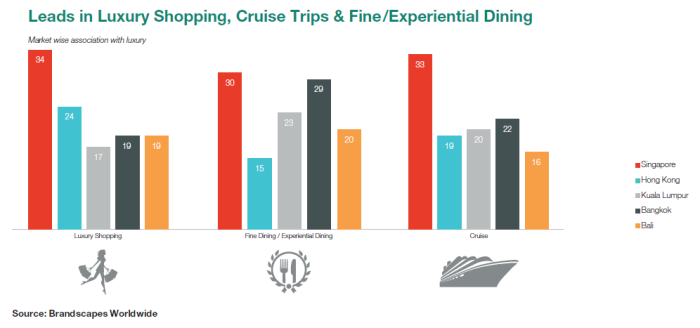 It was unable to comment specifically on the luxury shopping segment, but pointed out that in terms of overall shopping receipts, 2016 saw a 48% increase compared with figures recorded in 2015. Overall, 23% of total tourism receipts consisted of shopping.
Playing up its strengths
In a conversation with Marketing, Jan Rafael Møller, country managing director at Global Blue Singapore, said while retailers use tax free shopping as a tool to encourage sales in store, there is still room for improvement.
"There is still potential to increase awareness to ensure that all tourists are aware of the opportunity. The same can be said for merchants, as not all are using tax free shopping as a tool to upsell and ensure that all tourists are offered the rebate," he said.
Meanwhile, IRAS said retailers should advise tourists to use one credit/debit card as an electronic Tourist Refund Scheme (eTRS) Token for the purpose of linking up the purchases made at the different retail shops participating in eTRS.
With a single credit/debit card as an eTRS Token, the tourist will be able to retrieve all their purchases at one go when applying for their GST refund via the eTRS self-help kiosk at the airport or cruise terminal.
On the same issue, Møller explained that having the option to use a tourist's token is a value-added service that a retailer can offer to enhance a more enjoyable shopping experience for foreign customers.
The availability of these services, hence, enables Singapore to be a top-notch shopping destination with attractive shopping rebates.
"Over the years, Singapore has built a good reputation for selling genuine goods and offering a good retail mix. In 2016, we witnessed a growth in spending by new nationalities in Singapore," Møller said.
Last year, Global Blue registered a 4% growth in transactions, with global shoppers spending SG$1,084 on average, a considerably higher amount than domestic shoppers. Currently, the minimum qualifying amount for a tax free refund is SG$100.
"More tourists are also spending on the fashion and clothing category and it has overtaken the watches and jewellery category by 2%. This goes to show that Singapore is still an important destination for global shoppers looking to buy items from these sectors," he said.
Explaining the eTRS system, Lou-Ellen Hoskinson, country manager at Premier Tax Free & Fintrax Payments Asia, said: "When making payment at stores, tourists can request for an electronic Tourist Refund Scheme (eTRS) ticket that they can use at the eTRS self-help kiosks located at the airports to have the GST refunded into their credit/debit cards. Cash refunds can also be done at Changi International Airport."
How to keep them coming
In terms of travel spending, travellers from the China region came in first in tourism receipts for 2015 and 2016 – at SG$2.81 billion last year. In second place were travellers from Indonesia at SG$1.9 billion. This was followed by India at SG$1 billion in tourist receipts.
Despite the Singapore dollar's strength against the Malaysian Ringgit, data from Global Blue also found that Malaysian tourists are still spending healthily in Singapore. Together with Cambodians, they shared the number one spot in terms of average spend at SG$1,815.
In a conversation with Marketing, Lim Shoo Ling, director of brand at STB, said the board's current marketing strategy targets both first-time and repeat travellers.
When it comes to repeat travellers, however, there is more focus on pushing "new and evergreen" content which appeals to the interests and passions of its target audience. For example, some of its advertisements and promotions feature a mix of known attractions and hidden gems to encourage further exploration of Singapore.
STB also aims to lure travellers by highlighting interesting events and activities in Singapore across the year, such as the 52-weekend guide book that is specially crafted for short-haul travellers from Southeast Asia.
"To further trigger repeat visits, STB works with airlines and tourism industry partners to develop attractively priced packages to entice travellers to return to Singapore," Lim said.
To entrench the single brand strategy for Singapore, STB said it had been implementing campaigns which are customised specifically to each of its top markets.
This is supported by visitor statistics and in-market research to identify consumer insights which are market-relevant.
It added that campaigns have been crafted in terms of what Singapore is able to offer, various marketing messages and creative work to suit in-market preferences of different target audiences in different markets.
Going forward, STB said it would continue to maintain and expand its Asian stronghold. This would be done through the further investment of top-source markets and extracting further growth by scaling up investments in what it terms "Tier 2 cities". This includes Indonesia, China and India.
It will also turn its attention to high-growth Asian markets such as South Korea and Vietnam. Currently, long-haul markets such as the US and the United Kingdom (UK), along with high growth markets such as Russia and Switzerland, are also being eyed.
The full edition can be found on the Marketing Magazine's May 2017 edition.