Mosquitoes may not be the first thing that comes to mind when you think of murderous animals, but these buzzing pests cause hundreds of millions of deaths and infections around the world each year.
In an effort to prevent illnesses and protect communities, Manulife Singapore has taken an unexpected new step in the fight against mosquitoes with the Life Saving Pots – the world's first plant pots that double as mosquito repellents. The company worked with creative agency TBWASingapore to create handcrafted plant pots in three different sizes with three unique designs. The creation melds art, age-old traditions and technology to combat a long-standing concern in Singapore.
Given that mosquitoes breed in stagnant pools of water, tdeny mosquitoes their favourite breeding ground, each Life Saving Pot is coated in a special paint that contains permethrin, a non-toxic insecticide that repels mosquitoes. The paint has been tested to repel up to 80% of mosquitoes, including Aedes mosquitoes, which carries dengue and Zika viruses.
The paint works by disrupting the nervous systems of mosquitoes, knocking them unconscious when they attempt to land on the plant pots. The Life Saving Pot effectively prevents mosquitoes from turning our homes into theirs too. Each Life Saving Pot is painted by traditional ceramic artist, Shee Bee Heo, formally trained at Ming Village Ceramics. Over several months, she painstakingly painted the designs on each pot by hand.
At first glance, the pots appear to be intricately painted, traditional Chinese-style works of art. However, a very different story is revealed on closer inspection as the delicate flowers upon the long, fine branches depict fallen mosquitoes, with their upturned wings resembling petals.
Kwek-Perroy Li Choo, chief customer officer of Manulife Singapore said, "Given our climate and population density, Singapore is uniquely vulnerable to mosquito-borne diseases. We believe in encouraging our customers to actively take precautions with their health. We wanted to get to the root of the problem by preventing the mosquitoes from breeding in homes in the first place. The creation of these Life Saving Pots is a simple and elegant solution that helps Singaporeans to keep their homes safe."
Manulife Singapore will also be hosting a contest on its Facebook page to give away Life Saving Pots to the public.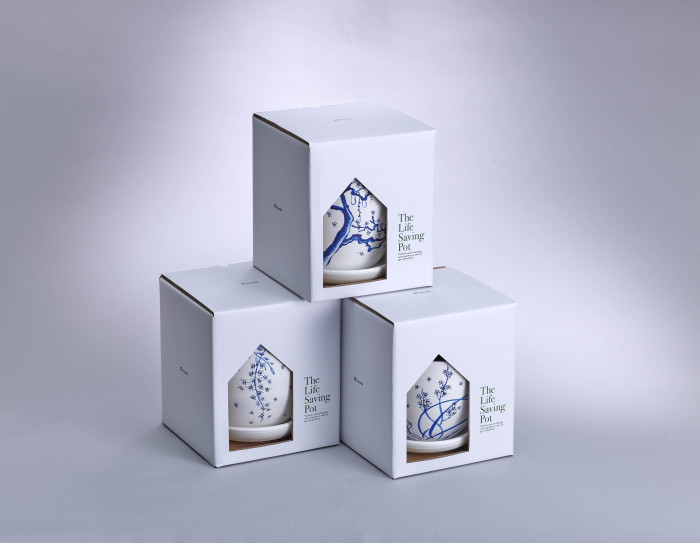 The pots are first fired at The Dragon Kiln, one of the last surviving wood-fire brick kilns in Singapore. Unlike modern day gas and electric kilns, the ashes from the wood react to create unpredictable finishes that make each pot one-of-a-kind. Once the pots have cooled, they are layered with two coats of the mosquito-repelling paint. Creating pots that save lives was just the first step. With the help of its employees and agents, Manulife Singapore distributed 80 Life Saving Pots to senior communities in Singapore's Punggol neighbourhood.