Earlier in March, Marketing reported that more than half of client-side respondents indicated that they are going to increase their social media marketing investment in 2017. As such, prioritising social media marketing in the digital split is not a new practice.
However, according to a study by GetResponse, social media marketing is not the only platform marketers should be putting their focus on. Enter email marketing.
Not only does email marketing and social media marketing deliver the highest ROI for marketers, they are also seen as key areas of spending for the year.
Across all the channels, 18% of participants surveyed said that email marketing delivered the highest ROI. This is closely followed by social media marketing, which came in at 17%. Meanwhile, display advertising comes in at the lowest, with only 8% of participants stating that it drives excellent ROI for them.
Across all channels, email marketing will also be receiving the highest investment. This can be seen in 58% of marketers surveyed stating that they would increase the budget for email marketing in 2017. In terms of investment, social pay-per-click comes in second, with 50% of marketers stating they would increase its budget in 2017.
Meanwhile, display advertising will see the least increase in spending for marketers this year, with only 31% of marketers stating they would increase spending. Direct mail is not far behind, with only 32% of marketers stating they would increase spend.
E-mail marketing not valued enough

Despite the high value email marketing drives, it is still not being appropriately valued by brands, according to GetResponse. When it comes to measuring the ROI of email marketing, increase in subscribers is a primary email marketing metric used by 29% of marketers surveyed.
However, 23.3% of marketers surveyed currently do not have any metrics they are focusing on; hence they are not rewarded on any metrics. Meanwhile, 21% of marketers surveyed use top of funnel metrics such as opens and clicks to measure their success.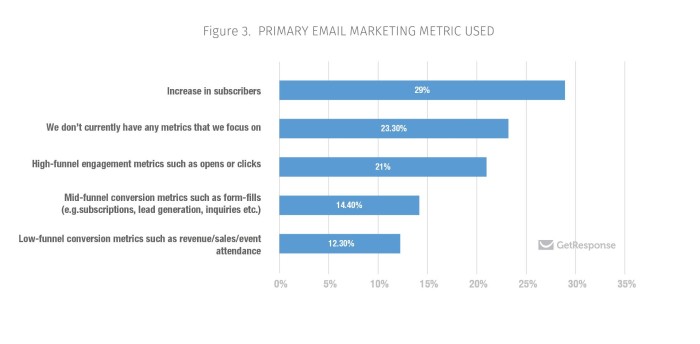 The report surveys 2,510 digital marketers globally from a range of business sizes and industries. 41.8% of respondents are involved in business-to-consumer (B2C) narketing, 19.1% are involved in business-to-business (B2B) marketing. Meanwhile, 39.1% of marketers surveyed manage both B2C and B2B.