As most of us eat and sleep with our digital devices, for internet users across the APAC region, online media are now the most widely used and most important source of news, according to a recent study produced in collaboration between the Chinese University of Hong Kong and the Reuters Institute for the Study of Journalism at the University of Oxford.
The report examines people's online media and news use as well as their attitudes towards and perceptions of news media in a sample of key Asia-Pacific markets. The topics covered include how users come across and consume news, the role of smartphones and of platform companies, people's engagement with and participation in news on social media and elsewhere, as well as the diversity of their news exposure, willingness to pay for online news, and trust in news.
How do people consume online news?
In markets such as Hong Kong, Taiwan, Singapore, and South Korea, more than 80% of respondents named online media (including social media) as sources of news.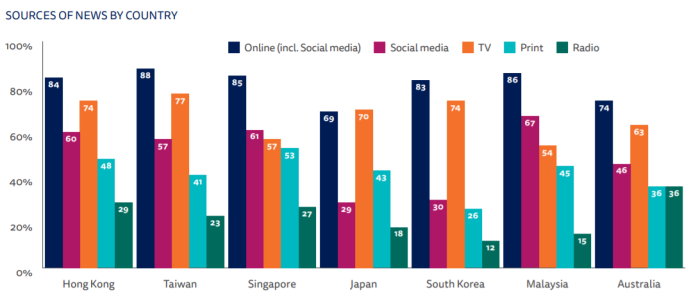 In recent years, social media have become increasingly important as digital intermediaries as more people access news information through social media rather than directly from branded news organisations. Social media users can use the platform for reading, watching, sharing, and discussing news.
Social media users in Malaysia, Hong Kong, Taiwan, and Singapore are the most active. About 80–90% of them have used social media for news.
Despite increased investment in video from both platforms and publishers, most respondents in most surveyed markets indicated that they mostly read news in text. In Hong Kong and Taiwan, more than 70% of the respondents consume a combination of text stories and video news regularly.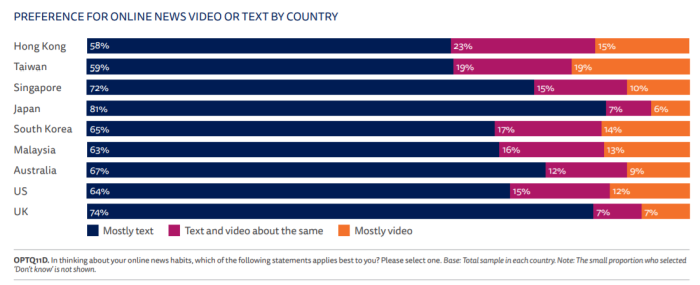 Using Facebook for news purposely or incidentally?
Facebook serves as a platform where ever more publishers (as well as others including ordinary users, activists, and political organisations) post news and information, one intriguing question is how users may receive news information on this content-rich platform. Facebook users may come across news in two ways: they can actively seek news on the platform, or they may incidentally stumble across news when they are surfing the platform for other purposes.
The study illustrated that a large portion of Facebook users in Asia-Pacific are mainly incidentally exposed to news on Facebook.
Over 50% of the respondents in Taiwan and Australia and about 70% of the respondents in South Korea say that they see news when they are 'on Facebook for other reasons'.
In contrast, respondents in Hong Kong and Malaysia have a stronger intention of actively using Facebook for news consumption. In Hong Kong, 54% of Facebook users 'think of Facebook as a useful way of getting news'.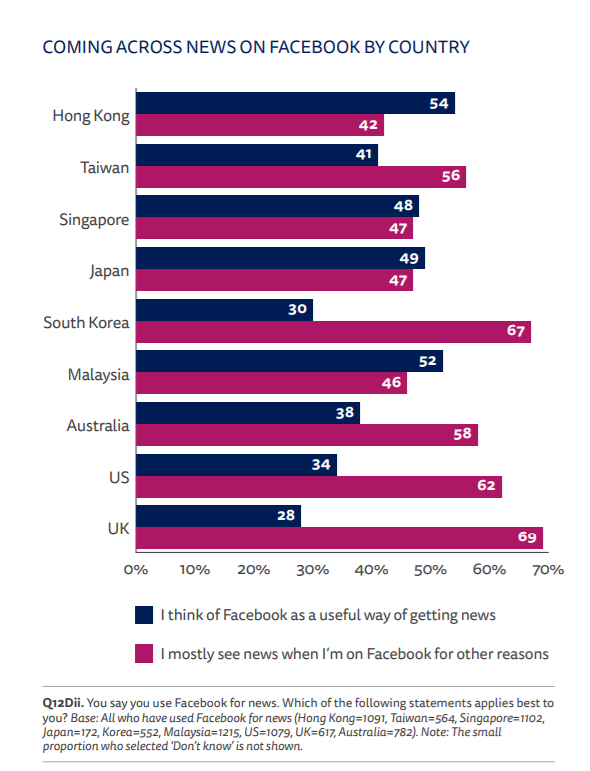 News participation
In the survey, sharing news on social networks is the most widely reported form of online participation across many markets, particularly in Hong Kong, Taiwan, and Malaysia. News sharing via instant messenger is also popular in some markets, such as Hong Kong, Singapore, and Malaysia.
Commenting is another prevalent form of online participation. But commenting on news on social networks is more common than on news websites.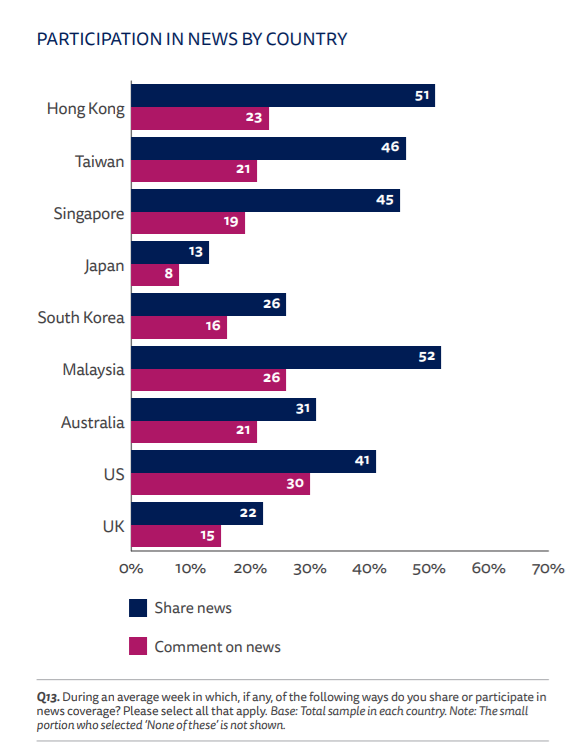 Are people paying for online news?
Hong Kong has the highest percentage of people paying for online news in APAC, with 21% saying they have paid at least once in the past year.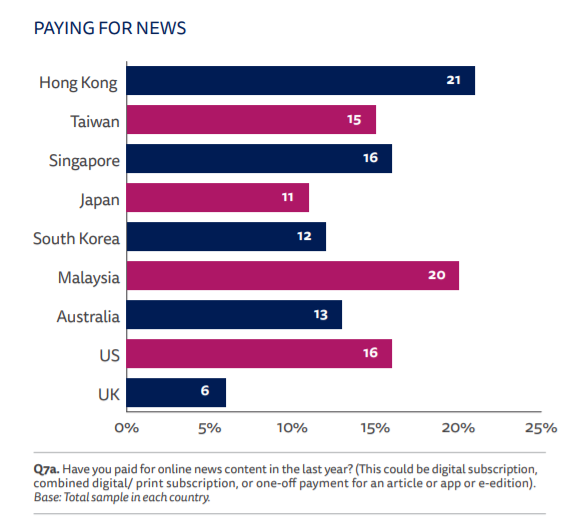 Content-wise, what are the main attractions for users who pay for online news? The results show that people are mostly attracted by timely news information – 'breaking news' and 'reporting on recent events'.
News avoidance
In most markets covered in this report, a majority of respondents have engaged in news avoidance. But in Hong Kong, over half of the respondents (54%) say that they never actively try to avoid news. In Japan, about 79% of respondents never do so.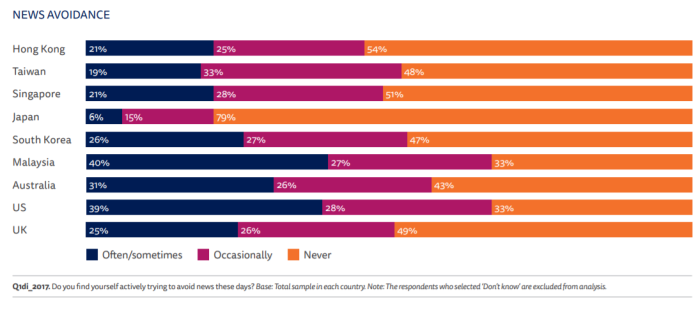 There are substantial variations in people's trust in news in different Asia-Pacific countries. In Hong Kong, Singapore, Japan, and Australia, a high percentage (over 40%) of respondents say that they trust most news most of the time. The figures are comparable with those in the UK and the US. Taiwan occupies a middle position, with nearly one-third of respondents having trust in the news.