The Watsons' Malaysia brand is under scrutiny after news of its broken safety seals went viral last week.
The issue was only made worse as a fake Twitter account for Watsons Malaysia responded rudely to the customer complaint on Twitter.
Customer and blogger Adam Minter wrote on his blog, ShanghaiScrap, about the broken seal on the Panadol box that he had purchased from his local Watsons store in Petaling Jaya. Concerned that other medications in the store might have been tampered with, Minter took to Twitter to warn customers about the safety violations that he encountered and was quickly met with a response by "WatsonsMalaysia" which was later confirmed by Watsons Malaysia to be an unauthorised account.
A saga ensued, with Minter tweeting about Watsons Malaysia carrying insufficient safety seals on its product. Subsequently, the Watsons Malaysia Twitter account was found to be increasingly rude in its replies and drew the ire of Malaysians online. The issue went viral after it was reported on according to Says.com.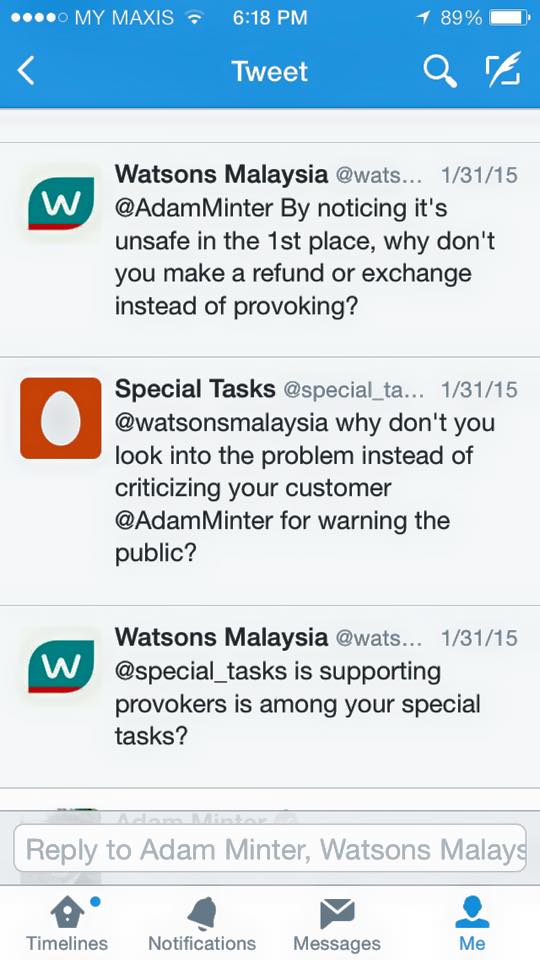 Watsons Malaysia has since denied that this is its official account. Watsons Malaysia's Facebook statement said: "We have reported this to Twitter and the police. Hence, the comments in that account do not represent an official response with regard to this matter."
The brand did not respond further to queries from Advertising + Marketing. However, Minter reported on his blog yesterday that Watsons Malaysia's head of marketing called to admit that CCTV footage showed its staff had broken seals on Panadol boxes, which was against company procedure, blaming GSK. Read the full post here.
The allegedly unauthorised account that responded to Minter's complaints had also been posting advertisements that were similar to those posted on Watsons Malaysia's Facebook page.
Since fake accounts can easily be abused to spread false information, is it possible for companies and users alike to protect themselves from falling prey to such a misuse?
Other brands that have suffered from online doppelgangers include PayPal (Read PayPal's struggle with online doppelgangers) and locally, SMRT. The latter had to contend with misconceptions that SMRT Feedback page on Facebook was its actual account during a period where it was facing a PR crisis over its train breakdowns. It was later revealed that SMRT Feedback is run separately.
In this digital age of rampant social media usage,  how can companies protect their brands from doppelganger accounts?
Eric Lai, senior consultant at PR firm Perspective Strategies calls for a more vigilant monitoring of social media: "The Watsons case presented an important lesson for companies on the threat of unauthorised account and content on social media. The open nature of social media makes it easier than ever for a fraudulent account to be created and compromised, which makes it necessary to identify, report and protect their brands against it."
While Simon Kemp, a regional managing partner at social media agency, We Are Social, provided insight on the importance of brand presence in the digital sphere: "Social media channels are the most public demonstration of a company's commitment to customer service. If a brand wants to maintain an effective presence in social media, the company must invest sufficient resources to ensure it can handle the volume and nature of social interactions."
Popular posts on Twitter tend to get shares almost instantaneously, so companies would do well to handle doppelganger accounts in a time sensitive manner before stories like Minter's go viral, with the potential to tarnish a brand's image. Lai added that,"The longer [a company] remains silent, the greater the brand's exposure towards negative comments and widespread speculation about the case."
The mirror of social media is tied to a brand's identity, and Kemp commented that,"Ultimately, success in social media depends on how well brands understand people; not how well they understand platforms or technology."
[Image from Shutterstock]