Wanda Group has signed agreement with Jinan Municipal Government to invest RMB 63 billion to construct Jinan Wanda Culture, Sports and Tourism City, the 13th super culture and tourism project of Wanda in China.
Located in Licheng District, adjacent to the down town of Jinan, capital of Shandong province, with floor coverage of 290 hectares and floor area of 5.3 million square meters, the new super complex is planned with Wanda Mall, outdoor theme park, ice hockey-basketball stadium, hotel cluster, large stage show and bar street.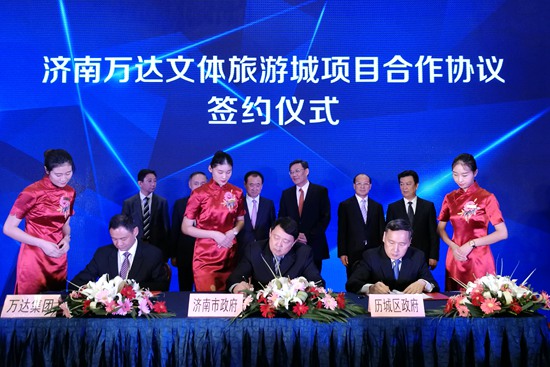 Besides culture, tourism and commerce elements, Jinan Wanda City introduces sports theme for the first time, with a 10,000-seat ice hockey-basketball stadium that can hold major international sporting events and serves as play fields for professional hockey clubs and professional basketball clubs.
Jinan Wanda City also directs in sports themes of hiking, outdoor extreme sports, bicycle, football training.
Jinan Wanda City is planned to break ground in 2017 and start operation in 2021 It is expected to receive over 20 million tourists, create 20,000 jobs and generate large amount of tax.