Twitter has revealed plans to expand its iconic 140 character limit and double it to 280 characters. In a blog post explaining the move, Twitter employees Aliza Rosen and Ikuhiro Ihara said that the change will affect all languages except for Japanese, Chinese and Korean.
They added that the new character limit is currently being tested with a "small group" at the moment.
"This is because in languages like Japanese, Korean, and Chinese you can convey about double the amount of information in one character as you can in many other languages, like English, Spanish, Portuguese, or French," Rosen said. The blog post also shared findings from its user base, which saw only 0.4% of Japanese tweets having used the full 140 characters. However, 9% of tweets in English have 140 characters.
"Our research shows us that the character limit is a major cause of frustration for people Tweeting in English, but it is not for those Tweeting in Japanese," Rosen explained, adding that in all markets, higher usage was recorded when users did not have to cram their thoughts into 140 characters and had some to spare.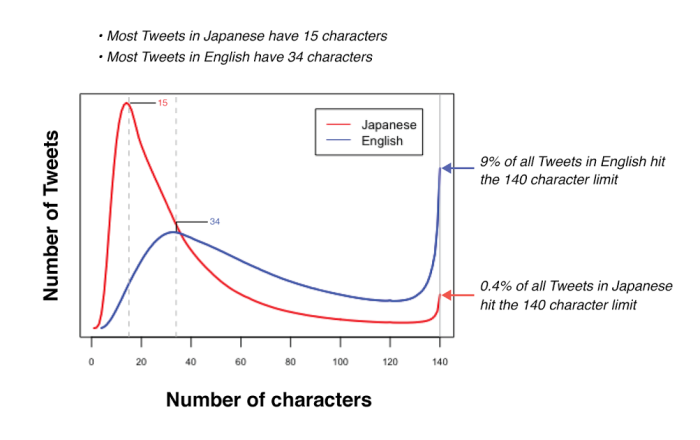 The blogpost also outlined examples of what having 280 characters instead of 140 would look like on the Twitter feed. It also showed comparisons of what the same tweet looked like for different languages such as English, Spanish and Japanese.
"Twitter is about brevity. It's what makes it such a great way to see what's happening. Tweets get right to the point with the information or thoughts that matter. That is something we will never change," Rosen said.
This is not the first time Twitter has toyed with the idea of expanding its character limit. In October 2015, rumours emerged that the social media platform was mulling doing away the 140 character limit and roll out a new product which allows for longer tweets.
While the move means more flexibility for marketers in terms of publishing of content, the move raised questions on whether or not it would impact its brand identity, which the character limit is a part of. Industry players Marketing spoke to at the time felt the move was a knee-jerk reaction to counter its struggle to add more users.
Most recently, Twitter struck over 35 video content partnerships for the Asia Pacific region. The partnerships include extensions of existing global live deals and aims to bolster its premium video offering for advertisers in Asia Pacific. It also named Arvinder Gujral as managing director of Southeast Asia. Prior to the move, Gujral was senior director, business development, Asia Pacific.
Read also: 
President-elect Halimah Yacob gets her own Twitter emoji
Hashtag turns 10: What are the most popular hashtags on Twitter?