Twitter has expanded its advertising offering with the launch of sponsored Moments. The new offering is an extension of In-Stream Sonsorships, customised programs which pairs brands and publishers on a one to one basis.
Sponsored Moments include interstitial tweets from the brand as well as a branded cover. Like other In-Stream Sponsorships, advertisers will also be able to promote the Moment to their specific target audience. This will allow advertisers to expand the reach beyond the publisher's existing followers.
In a blog post revealing the move, Mike Park, VP, emerging content products at Twitter, said that the goal of sponsored Moments and In-Stream Sponsorships is to tighten the alignment between advertiser messaging and partner content. This will allow brands to know exactly which premium publisher they are working with and better develop deep brand integrations within that publisher content.
Publishers will benefit from sponsored Moments by being able to monetise all forms of content it produces on Twitter, including tweets, photos, videos and GIFs. The blog post added that it will also allow publishers to easily produce and tell stories about events.
One publisher that Twitter has been experimenting with the new feature with is Bloomberg and Bank of America, which sponsored a Moment at the recent World Economic Forum held in Davos. Here is Bloomberg-Bank of America sponsored moment.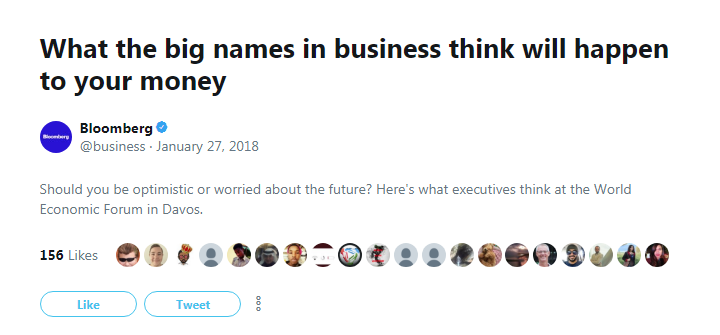 The move follows a slew of initiatives Twitter has undertaken the past year to boost its content offering for users and brands. Just in September last year, Twitter struck over 35 video content partnerships for the Asia Pacific region. For news partnerships alone, the social media platform partnered with Bloomberg Asia Pacific, BuzzFeed Japan, Channel 7, NDTV and Network 18.
Earlier in May 2017, Twitter and Bloomberg Media teamed up to create the first-ever 24/7 breaking news network that will be global, live, social and streaming. The partnership launched in the latter half of the year, featuring a mix of user-generated breaking news videos on Twitter from citizens, curated and verified by Bloomberg editors. This was along with live video and reporting from Bloomberg journalists around the world.