From traditional media buying to ad networks and ad exchanges, today's advertisers and marketers are all eyeing programmatic ad buying which helps them maximise and optimise their campaign effectiveness in a more efficient and convenient manner.
Programmatic buying has been gaining momentum in recent years. In 2016, US programmatic digital display ad spending will reach US$22.10 billion and represent 67% of total digital display ad spending in the US, according to eMarketer.
In China, the growth is also robust, mainly driven by the high penetration of mobile devices in the country. eMarketer expects advertisers in China will spend $9.29 billion on programmatic digital display advertising in 2016.
To tap into the programmatic trend, TubeMogul, a US-based enterprise software company, has built up its presence in the lucrative market with its official launch in Shanghai, China last week.
TubeMogul's executives talked to Marketing, sharing their insights on programmatic buying in this emerging market.
One of the main trends of programmatic buying in China is the shift from real-time bidding (RTB) to programmatic direct buy, said Jeffery Zheng, TubeMogul's managing director of Greater China.
'ÄúChina is a unique market. More than half of media inventory is concentrated on several major video platforms,'ÄĚ he said.
"Advertisers need a unified platform where they can establish a stable and efficient co-operation with all these platforms at the same time to buy a fixed media placement and exposure at a fixed price as well as getting the integrated real-time result.
'ÄúIn China, brand advertisers are not only looking at audience targeting based RTB, but also doing programmatic buying targeting on particular media.'ÄĚ
Seeing the huge opportunities in China's programmatic market, TubeMogul entered the Chinese market in Q1 2016 in Chengdu, its largest development hub, outside its Emeryville headquarters in California.
'ÄúWe have had so many global clients saying for a few years that they haven'Äôt been able to find the partner they want in China who can unify their ad buying,'ÄĚ said Susan Salop, TubeMogul'Äôs vice-president for Asia.
'ÄúThey are using our solutions, and the client feedback for our transparent model and our technology has really exceeded our expectations.'ÄĚ
Zheng added: 'ÄúThe China market is really fragmented and there are so many third-party agencies. Through our platform, both local and overseas advertisers can capture the opportunities in the China market by placing ads on China'Äôs major media, as well as learning and sharing skills and experience with each other.'ÄĚ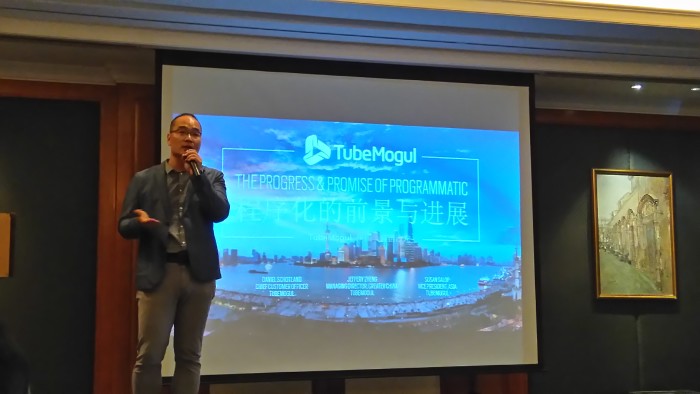 Talking about choosing programmatic service providers, Daniel Schotland, TubeMogul's chief customer officer, said transparency, accountability and technology were the main factors advertisers should be concerned with.
'ÄúService providers should always have advertisers'Äô best interests in mind and not benefit from things that might go against what is best for advertisers,'ÄĚ he said.
"Second is the technology. Programmatic is all about efficiency and optimisation of ad buying. There should be a platform that helps advertisers plan by measure and optimise across their entire buy across TV, video, display and social.
"The third is transparency and accountability in the control that advertisers should have in leveraging the technology.
'ÄúAdvertisers always want to know the performances, to have control of what they want and what they don'Äôt want; to have the capability to bring in their own data to leverage better audience targeting and integrate with; and allow third-party performance and audience verification.'ÄĚ
In the future, the agency will be mainly focusing on market education to advertisers, publishers and agencies. More certification programmes and educational events will be unveiled for Chinese advertising partners over the course of the next 12 to 18 months.
Schotland said: 'ÄúWe have our education programme 'Äď TubeMogul University and TubeMogul Academy in place. We will help our local and regional clients and practitioners from agencies and brands to understand what programmatic is, how to use the technology, and provide them with the skill sets they need to develop and successfully run and manage programmatic buying.'ÄĚ
Programmatic buying may still be a buzzword in emerging markets such as China, but all three executives see the marketplace changing in the next couple of years.
'ÄúIn North America, probably three years ago, everyone talked about programmatic buying. There'Äôs still a lot conversations around programmatic, but people now know what it is and it has become the predominant way that media is actually purchased by ad agencies,'ÄĚ Schotland said.
"Programmatic is starting to emerge in China and other emerging markets, but it will go through some more transition.
"We are trying to help practitioners and clients through education and providing local inventory and local solutions that we are developing out of our R&D centre in Chengdu to accommodate the market.
"In the future, one of the challenges we see many advertisers having is understanding the reach and frequency against the audience across the entire ad buy.
'ÄúWe have developed the solution for holistic cross-screen planning across all particular channels to enable advertisers to make better decisions on the right allocation on channels to reach audiences more efficiently.'ÄĚ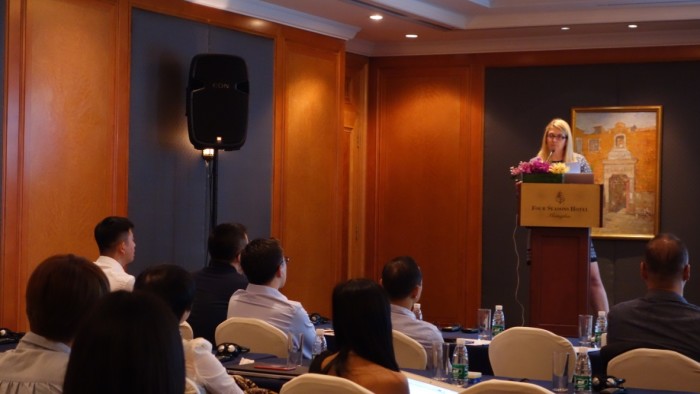 Salop said: 'ÄúThe ecosystem is still under development. In the future, there will be more and more DMPs (data management platforms) and data companies coming up, and more adoption of that technology.'ÄĚ
Zheng added: 'ÄúDigital cross-screen solutions will be the focus in the future. It is all about how to boost incremental reach and get real-time user analysis. Brand marketers will focus more on programmatic buying to have better brand advertising control and measurement.'ÄĚ