Ipsos released the 2016 Ipsos Affluent Asia survey results yesterday, a survey that investigates consumer habits among the affluent in Asia. The affluent in Asia contribute 67% to the total income earned, making them a valuable demographic for marketers.
From the data, four profiles were identified by Ipsos in terms of key segments among affluent consumers:
Well-heeled trendies – largely female segment who are very interested in fashion trends and enjoy taking time off, first-class travel and are shopping fanatics.
Key opinion leaders – equally gender-split segment that is often married with children, works in finance or trading and advise others on making purchases. They travel business class, like sports and appreciate fine wine and whiskey.
The eco-friendly – a slightly female-skewed segment that is willing to pay more for eco-friendly and premium products. They exercise more and advocate greener options. Subjects related to the environment, culture and history appeal to them the most.
The techie – this segment has the highest incomes, and have mobile tech at the centre of their lives. They are interested in pursuing education, and are interested in a wide variety of subjects. They love beer and are usually car owners. They unsurprisingly own the most screens and are the most digitally active.
After identifying the profiles, they cross-referenced this data with the individual profile's media consumption habits, showcasing which medium is most likely to reach them. Unsurprisingly, the techies exclusively access media online, but two profiles still largerly get their information from print and TV: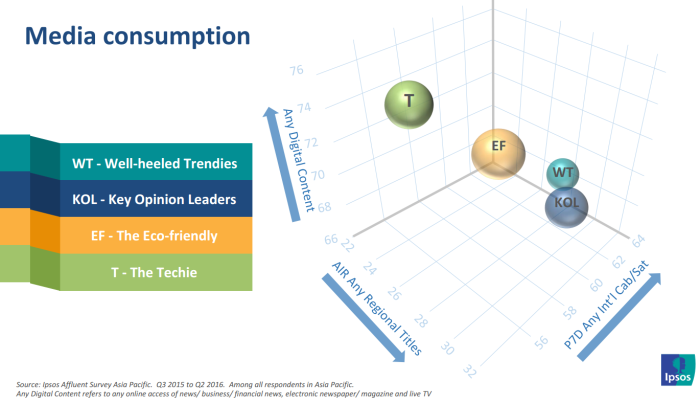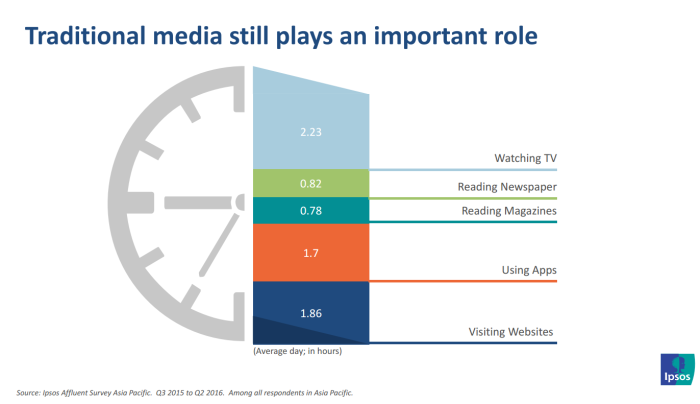 Notable, however, was the fact that TV is still a more important medium than digital among all respondents, for international news, international documentaries and international entertainment: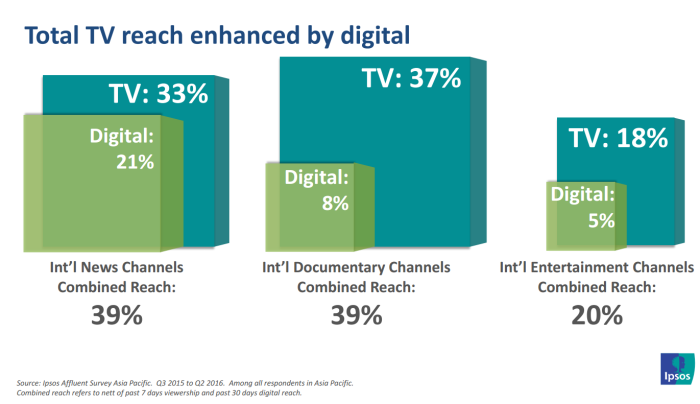 Overall, digital media consumption aggregated the most amount of hours, closely followed by TV. Print and newspaper have fallen behind, but they still take up almost two hours a day for affluent consumers.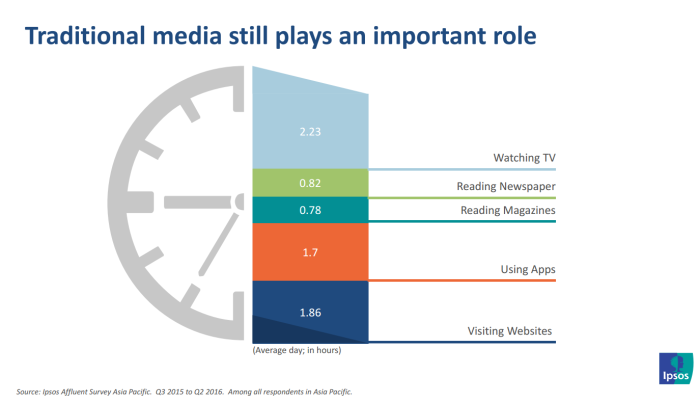 The 2016 Ipsos Affluent Asia study surveyed the affluent groups in Hong Kong, Singapore, Malaysia, Thailand, Taiwan, Indonesia, India, Philippines, Korea and Australia. The survey is conducted year-round, and Ipsos spoke with 19,103 affluent people across the region (with 1,760 of them from Hong Kong) to obtain the 2016 results.