Local advertising spend has seen the first decline recorded since 2009, amounting to HK$3.7 billion in August with a 1% YOY drop, the latest admanGo report shows.
According to the report, the decrease in the overall advertising spend in August was mainly because of the continuous drop in ad spend in traditional ads, of which the year-on-year drop in paid papers, magazines and outdoor marked the largest decline this year.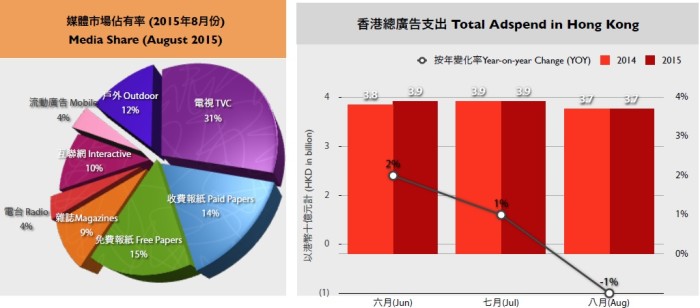 The 13% and 19% YOY decline in ad spend in paid papers and magazines was the largest drop recorded this year. Following the 5% YOY drop in June and July, the ad spend in outdoor ads in August again decreased 13% when compared with the same period last year.
The decrease in ad spend in paid papers was because of the sharp cut by key industries – property and real estate (-19%), retail (-14%), travel and tourism services (-11%) and banking and investment services (-12%).
On the other hand, the ad spend drop in magazines was affected by cosmetics, fashion and luxury items.
Cosmetics and skincare (-38%), beauty, slimming and fitness (-28%), jewellery, watches and luxury products (-21%) as well as fashion, accessories and eyewear (-18%) all showed a drop in ad spend in magazines.
Several industries increased their ad spend in newspapers. For example, the ad spend in paid and free papers by pharmaceuticals and healthcare increased 7% and 10% respectively when compared with the previous year, while there was a 15% and 21% YOY growth by telecommunication, mobile phones and services.
Although there is continuous growth in ad spend in digital ads, the growth slowed down in August. The ad spend in interactive ads was up 25% against last year, while spending in digital ads increased by 49%, the smallest growth recorded this year.