To say 2016 has been an eventful one would be a sore understatement, from world events such as Brexit and the US Elections taking the stage, events closer to home like Joseph Schooling's Olympic win and Pokemon Go were also close to the hearts of users.
Google's "Year in Search" rankings were made through an analysis of the over one trillion search queries it received yearly.
According to Google's rankings, Singaporeans showed key interest in sporting events such as Euro 2016, Wimbledon, the Australia Open and the Rio Olympics – which saw Joseph Schooling taking home Singapore's first ever Olympic gold medal for the 100m butterfly swimming event, beating out swimming legend Michael Phelps. Searches for Joseph Schooling soared in Singapore, making him Singapore's top trending person and athlete of the year.
Singaporeans were also struck with Pokemon Go fever this year when the game launched in August. The game has clinched the top spot of Singapore's top trending news in 2016.
Aside from the major social impact it had on the masses, brands in particular took to the Pokemon Go wave. From month-long promotions to social media activations, brands such as Wildlife Reserves Singapore, Resorts World Sentosa and Capitaland jumped on the bandwagon to cash in on the hype. Currently, Changi Airport is running a Pokemon Go themed campaign in a bid to reach out to travellers.
News updates on Zika were also trending topics for many in Singapore, with world events such as the US Elections to Brexit being followed closely as well.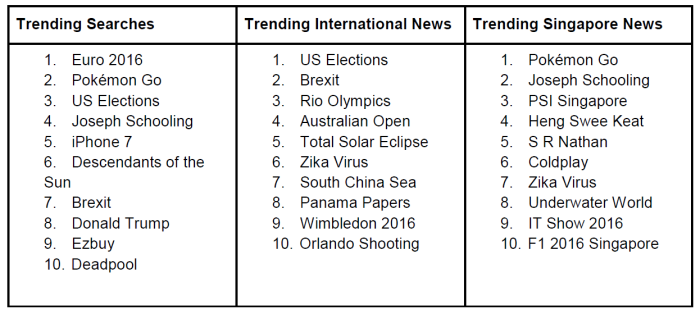 Singaporeans were also seen to be trending towards vacation spots closer to home this year, with 7 out of 10 top trending searches including holiday destinations such as Japan, Vietnam, Taiwan to short getaways at beach destinations near Singapore.
Trending Destinations
Turkey
June holidays destinations in Asia
Japan
Weekend destinations near Singapore
Europe destinations
Taiwan
Vietnam
Beach destinations from Singapore
New Zealand
Thailand
Korean TV show Descendants of the Sun took home top trending TV show this year, with its leading actor taking the fourth spot in the list of Singapore's top trending people of 2016. The rankings also saw 6 out of 10 trending TV shows coming from Korea.
Trending TV Shows
Descendants of the Sun
Sinetron Samson Dan Dahlia
Moon Lovers: Scarlet Heart Ryeo
Suri Hati Mr Pilot
Uncontrollably Fond
Bigg Boss 9
Love in the Moonlight
Doctors (Korean Drama)
Cinderella and Four Knights
Game of Thrones Season 6
In terms of apps, Grab, Waze and UberEATS also made it into the top five trending apps on Google Play in Singapore.
Prisma
GRAB
Waze – GPS, Maps & Traffic
UberEATS: Faster Delivery
Splitwise
"Nobody likes being in the dark — especially in this digital age of real-time information and smartphones. This year we saw Singaporeans stay on top of the latest trends at home and around the world with Google Search. Be it keeping up with the latest news, searching for their next travel destination or lyrics to their favourite song – Singaporeans relied on Google to learn something new, have fun and get inspired," Angeline Leow, head of Singapore communications and public affairs, Google, said.