It seems like Coca-Cola and McDonald's have lost their positions as the top two brands in the world (previously retained every year since 2014), said a recent study by WARC. The WARC 100 study outlined the top 10 advertisers in the world.
Coming in top in this year's ranking was Vodafone. This is despite Vodafone having only two campaigns in the top 100 of WARC's list of best campaigns. The study says that this is because it performed consistently across regions, meaning a steady accumulation of points, to reach the top spot for the first time. John Lewis, in third, was boosted by the performance of its Christmas campaigns, and the big jump by Ariel into second is attributed to its number one campaign, Share The Load.
The study added that:
The top 10 continues to be dominated by brands from 'traditional' marketing categories such as retail and FMCG.
Here are the top 10 brands: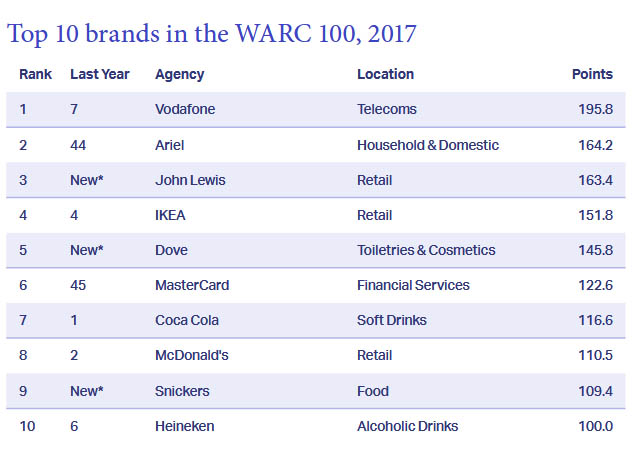 Top 10 advertisers
Procter & Gamble retained first place over rival Unilever, having placed five campaigns in the top 100 compared to Unilever's three. Meanwhile,  Coca-Cola suffered from its drop in the brand rankings, moving from a steady third best advertiser in previous years to ninth this year.
Heineken remains the top alcoholic drinks company, placing in both the brand and advertiser top 10s. John Lewis enters the top 50 advertisers ranking for first time at 10, through their Christmas advertising campaign wins. Meanwhile, Volkswagen, Tata and Luxottica fell out of top 10.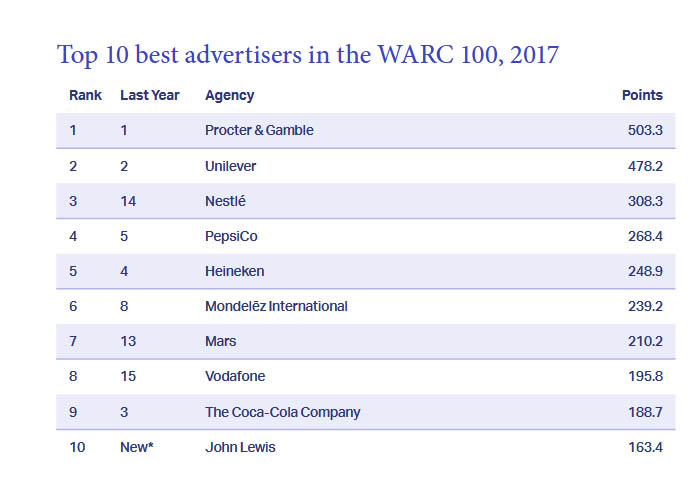 Top 10 marketing campaigns
Meanwhile, dubbed "Share the Load", BBDO Mumbai and Mediacom Mumbai's campaign for Procter & Gamble's Ariel detergent brand in India tops in this year's Warc 100 2017 rankings.
In the campaign, men were encouraged to share the weight of household chores. This was supported by campaign-specific packaging, and ran across online, cinema and TVCs. As 1.57 million men pledged to 'share the load', Ariel more than doubled value and volume sales, which grew 106% and 105% respectively.
Here are the other top 10 ads.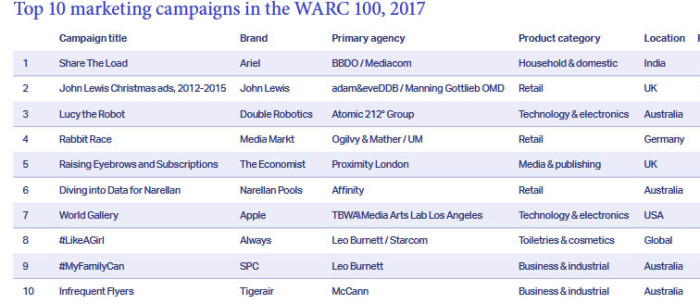 Warc 100 uses methodology developed in consultation with King's College, London. This year marks its fourth annual announcement.