After elevating Jeremy Young to chief marketing officer for Asia, Sun Life Hong Kong board of directors has appointed Fabien Jeudy (far left) as its new chief executive officer and announced three new senior appointments at the same time.
In this role, Jeudy will be responsible for overseeing and growing SLHK's operations which include life & health insurance, wealth management and an award winning pensions business. His appointment is with immediate effect.
He has over 27 years of experience across Sun Life's businesses in Hong Kong, Canada, the United States, Indonesia, the Philippines, India and Vietnam. Most recently, he was the regional chief operating officer for Sun Life Financial.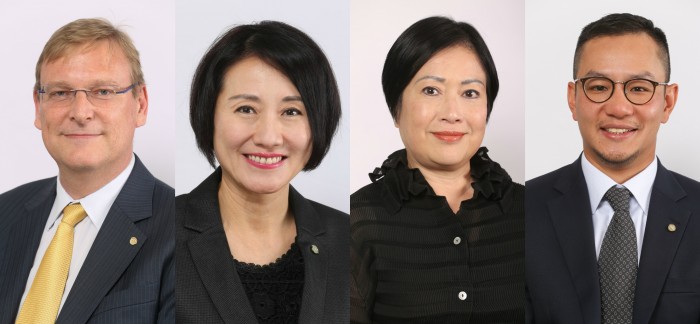 In addition, the company has made the following senior leadership appointments:
Belinda Au (second left) has been appointed general manager of distribution and marketing of Sun Life Hong Kong. In this role, Au will be responsible for overseeing the distribution of SLHK's products across all distribution channels; managing the company's digital transformation; and overseeing all marketing activities.
Belinda Luk (second right) has been named general manager of wealth and pensions of Sun Life Hong Kong while Clement Lam joined the firm as general manager of life and health.