When it comes to heading the digital transformation of a company, some brands look towards their marketing teams to lead the charge. However, a recent study by PwC's Strategy& on chief digital officers (CDOs) has found that more brands are looking towards CDOs with primary expertise in technology.
In 2015, 53% of CDOs surveyed specialised in marketing, sales and customer service. However, the number has fallen to 39% in 2016. Meanwhile, the proportion of CDOs with technology field backgrounds has more than doubled to 32% in 2016, increasing from 14% in 2015.
This is especially notable for CDOs in the C-suite where 41% of CDOs are technology-oriented, compared to 33% who have marketing and sales backgrounds. According to the study, the shift corresponds to circumstances companies are facing which can be divided into two possible scenarios.
The first scenario applies to companies with greater goals for digital transformation. Hence, these companies tend towards digital leaders whose backgrounds extend beyond customer-facing or operation aspects of digitisation. Instead, these leaders have experience in managing large-scale change to navigate both legacy IT architectures and new digital applications. Hence, CDOs with a strong background in technology might be preferred. This is to allow the company to better steer potential political and governance issues when it comes to approving major technology investments and implementing new systems, the study said.
Meanwhile, the second scenario applies to companies which are looking to only digitise customer-facing activities or just one business unit at a time may look at having a CDO with a great deal of sales or marketing experience. Alternatively they could also have expertise in a specific technical area.
On an overall note, companies are recognising the growing importance of having a designated leader for digital. The number of companies with digital leaders has risen to 19% in 2016, compared to 6% in 2015. The study also found that 60% of digital leaders were hired since 2015.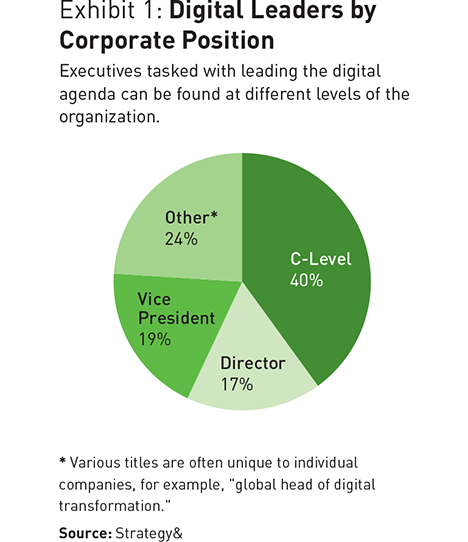 Currently, 40% of digital leaders surveyed hold a C-level position in the organisation, 19% holds a vice-president position and 17% holds a director position. Meanwhile, 24% have titles which are unique to the individual. For example, they are called "global head of digital transformation".
Which are the sectors prioritising CDOs?
When it comes to industries which have the highest percentage of CDOs, the insurance sector comes in top at 35%. This is followed by the communications, media and entertainment industry where 28% of those surveyed belong to. Tying at third place is the banking and consumer products and retail industry, which sees a figure of 27% of companies with CDOs.
According to the study, this comes as brands seek to not only bolster customer-facing activities but also look at fully digitising internal operations. Compared to its 2015 study, the shift towards CDOs in 2016 has been seen notably in insurance and banking.
On the other hand, industries such as oil and gas as well as metals and mining come in lowest in terms of prevalence of CDOs, coming in at 3% and 5% respectively.

Currently only 7% of CDOs surveyed come from the Asia Pacific region. This is compared to 38% which belong to Europe, Middle East and Africa region, and 23% which belong to North America and 13% which come from South America.

The PwC's Strategy& Chief Digital Officer Study analyses CDOs at 2,500 public companies on a global scale, covering regions such as Asia Pacific, EMEA, North America and South America.