Celebrating BRAVIA's 10th anniversary, Sony has teamed up with The Right Side for a series of O2O promotions with a bus shelter interactive screen and Facebook games, giving away some 13 of its latest BRAVIA Android TVs.
For the first time, Sony will engage with customers with a bus shelter interactive game at one of the busiest bus stops in front of SOGO at Causeway Bay for the next two weekends.
From 22-23 and 29-30 August, participants who finish the game in the fastest time will be entitled to a BRAVIA 4K Android TV X9000C Series worth HK$36,980.
The purpose of the game is to highlight the slim design of the X9000C Series, Sony's slimmest LCD TV ever. A promotion video will be played on 100 Most to engage Gen C.
Simois Ng, head of marketing communications at Sony Corporation HK Ltd, said this Android TV series is designed to make Gen C customers to stay with TV screens.
"The brand new X9000C Series represents the pinnacle of Sony's aesthetic design with its ultra-slim 4.9mm body. We hope to introduce this breakthrough design to customers by engaging them with a funny, interactive game at the bus shelter," she said.
On the social media front, Sony Hong Kong's Facebook page will hold a series of puzzle games to give out the BRAVIA Android TV and its 10th anniversary souvenirs every week starting this month for 10 weeks.
As part of the promotional campaign, a BRAVIA mobile truck has travelled the city for a month to allow the public in different districts to experience the user benefits and picture quality of the 4K TVs.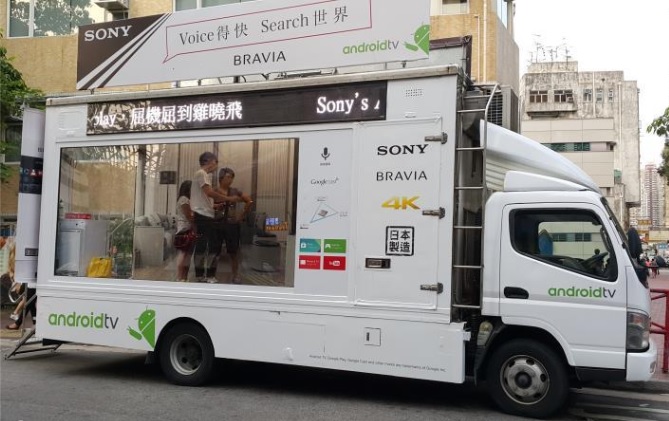 Credits
Client: Sony Hong Kong
Creative agency: The Right Side
Media: Carat Media