Remember the weekends watching Growing Up and evenings spent answering enthralling questions on The Pyramid game? Or maybe you were more of a Triple Nine or Under One Roof fan?
Whatever your cup of tea was back then, if you grew up in Singapore these memorable ads would definitely strike a chord. As we all celebrate SG50, we look at some of these iconic ads of Singapore – most of which still linger in our memories.
Campaign: A day in Singapore.
Client: McDonald's Singapore.
Story: This was McDonald's first local TV commercial in Singapore and it showcased its range of menu catering to the multi-racial local audiences and their daily needs.
Agency: Leo Burnett Singapore.
Year: 1991.
Campaign: Glasses.
Client: Singapore Traffic Police.
Story: The commercial was based on the insight that most drinkers still feel that they are able to drive even after a few drinks. The idea was to demonstrate the state of the driver by showing his view of the road through a series of empty beer glasses placed on the dashboard of a car. A view that became increasingly blurred until the sound of a crash announces a collision followed by the words: "Each drink you have before driving impairs your judgment."
Agency: Saatchi & Saatchi.
Year: 1993.
Campaign: NAVY Duck.
Client: The Republic of Singapore Navy.
Story: The brief was to inspire young potential recruits to join the navy. The set was reminiscent of the Hunt for Red October in a tense naval duel between the sub and the enemy ship. The captain searches for the damaged ship through the periscope and sees a rubber duck instead. It's a young man in a bathtub re-enacting his dream.
Agency: Saatchi & Saatchi.
Year: 1997.
Campaign: God
God – Special Effect from Ogilvy Asia on Vimeo.
Client: Churches of the Love Singapore Movement.
Story: The aim of the campaign was to put God in a contemporary, affable and witty light. The movement's main objective was to correct the misconception of God from a disapproving schoolmaster to a figure that is witty, approachable, omnipresent and all-powerful.
Agency: Ogilvy & Mather Singapore.
Year: 2001.

Campaign: Filial Piety: Father & Son.


Client: Ministry of Community Development, Youth and Sports (MCYS) and National Family Council.
Story: Singapore's population was a rapidly ageing one and the traditional values of filial piety were being lost in an increasingly globalised society. The campaign aimed to heighten the awareness of Singaporeans on filial piety and that they had to lead by example if they wanted their own children to care for them when they themselves grew old. The campaign ran on TV, cinema, OOH and online.
Agency: Leo Burnett Singapore.
Year: 2001.
Campaign: Smile for Singapore.
Smile For Singapore 2006 In 2006, Publicis Singapore developed the Smile For Singapore 2006 campaign. "Singapore 2006" is the annual meeting for the boards of governors of the International Monetary Fund and the World Bank Group.

Posted by Publicis Singapore on Monday, August 3, 2015
Client: International Monetary Fund (IMF) Board of Directors' Meeting.
Story: The Singapore 2006 IMF Board of Directors' Meeting welcomed over 400 finance ministers and central bank governors, and more than 20,000 participants from 184 countries. To drum up local support, government bodies, private sectors and the public were encouraged to submit photos of themselves. The mass participation was amplified through TVC, web, print, outdoor, etc, island-wide.
Agency: Publicis Singapore.
Year: 2006.
Campaign: A Force Like Nothing On Earth.
Client: Republic of Singapore Air Force.
Story: The RSAF took to the sky with the campaign, "A Force Like Nothing On Earth". That one line summed up high technology and top-class people. It lifted its brand aura with an impressive 87% awareness, and boosted its recruitment by 25%. It injected new life into the brand and, at the same time, raised the overall perception of RSAF careers in support of recruitment efforts.
Agency: DDB Group Singapore.
Year: 2007.
Campaign: Teacher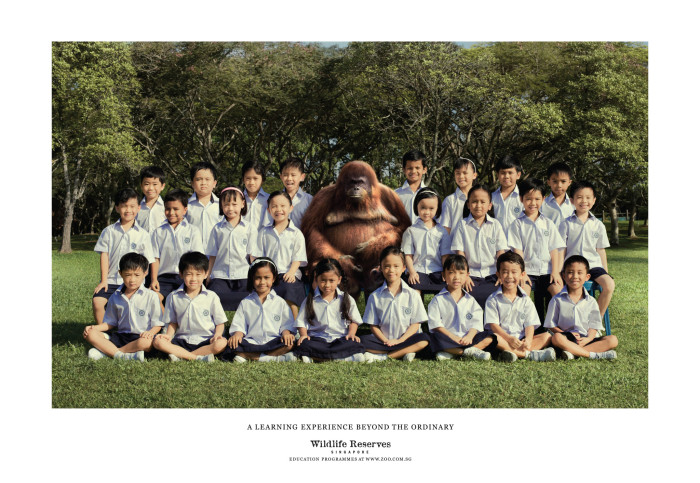 Client: Wildlife Reserves Singapore.
Story: Education was one of the three strategic pillars of Wildlife Reserves Singapore (WRS), the other two pillars being recreation and conservation and research. WRS felt the general public, especially parents, were either not aware of their educational programmes or did not adequately understand the educational role the organisation played. WRS needed to heighten awareness of its education programmes and the active role WRS played in educating children about wildlife.
Agency: Grey Group Singapore.
Year: 2010.
Campaign: Joy is BMW

Client: BMW Singapore.
Story: Conventional wisdom in Singapore had it that joy was the result of success. BMW's 2010 "Joy is BMW" campaign, however, put a different twist to this idea: Joy, it said, was the input to success. To bring this to life, BMW used the office buildings of the Singapore CBD as its media, surprising office goers with messages of bringing joy to work, with Asia's first 3D projection mapping with an interactive display.
Agency: Publicis Singapore.
Year: 2010.
Campaign: Anti-Ah Long Campaign.
Client: National Crime Prevention Council.
Story: The Anti-Unlicensed Money Lending campaign by the National Crime Prevention Council looked to convince current or potential borrowers and runners to stop being involved with loan sharks as they would ruin not only their lives, but the lives of their families. The creative approach was focused on how the consequences of borrowing from unlicensed moneylenders extended far beyond monetary repayments.
Agency: Wild Advertising & Marketing.
Year: 2012.