South China Morning Post's online education portal, Education Post, will cease operation starting from 1 October, 2017, Marketing has confirmed.
In a letter to its subscribers, Razlan Manjaji, business director of education at South China Morning Post Publishers, said the decision is the result of a recent strategic review to "bring more valuable content to readers and to improve business performance".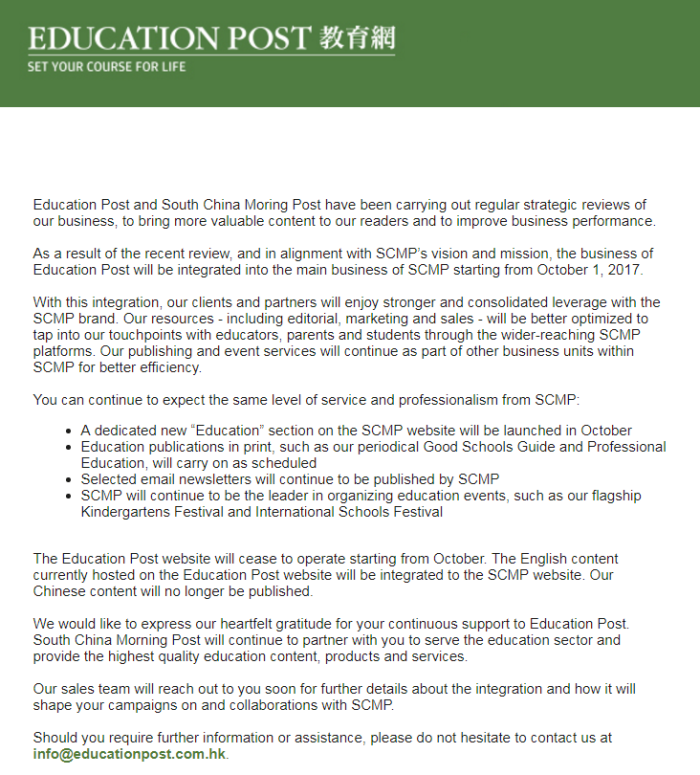 The English content currently hosted on the Education Post website will be integrated into the SCMP website as a new education section, while the Chinese content will no longer be published in October.
The new arrangement will better optimise the company's resources, including editorial, marketing and sales, to tap into touchpoints with educators, parents and students through the wider-reaching SCMP platforms, Manjaji explained.
A South China Morning Post spokesperson told Marketing the majority of its colleagues on the education businesses will be redeployed internally, with a few staff members leaving the company at the end of September.
"Our education businesses (including publications, events and educationpost.com.hk) are important to the South China Morning Post. These businesses will continue but they will be redeployed to other departments. We believe realigning resources will create better leverage for clients and users," the spokesperson commented.