Brand and marketing consultancy Prophet announced it has collaborated with Alimama, the marketing technology platform of Alibaba Group, to build a new model to transform brand building in China.
Alimama and Prophet believe brands in China, both multinational and homegrown, are reaching a tipping point. Chinese consumers are increasingly wealthy and empowered, and they are demanding more sophisticated and engaging customer experiences from brands. Yet, despite having access to deep troves of consumer data and insights, too many companies are still chasing low-margin share.
To help both types of companies build strong, enduring brands in China, Prophet and Alimama worked together to create the "Brand META" model which looks to help companies take advantage of the unique consumer dynamics and digital ecosystem of the Chinese market to fuel growth and profitability.
META represents the Maintain-Evolve-Transform Approach to brand building, and guides companies through a few steps:
– Maintain – The model helps companies identify and maintain their core brand principles and positioning.
– Evolve – The model evolves the strategies of classic brand building to help companies account for crucial factors like micro-segments and the role influencers play in China.
– Transform – The model shows companies how to transform their approach to take advantage of the rich data and real time, omnichannel interactions that are unique to China's digital ecosystem.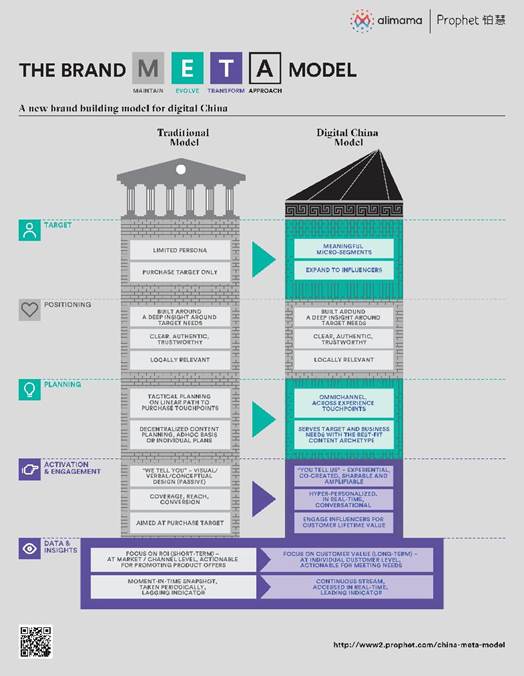 Jay Milliken, senior partner at Prophet, said, "The collaboration between Prophet and Alimama is founded on a shared vision to transform brand building in China. Prophet has always believed that brand relevance is the key to customer engagement and profitable growth, and we are honoured to work with Alimama to develop a new model that revolutionises how brands are created in China."
Christina Lu, general manager of the Uni-Marketing and strategy center, Alibaba Group, said, "In the digital era, Alimama believes that marketing is a valuable investment that helps accumulate consumer insights which will become important assets for brands. With over 500 million active users on our e-commerce platforms, we enable brands to understand different facets of consumer preferences, which will be instrumental to effective consumer engagement and brand building. We are delighted to work with Prophet that shares our goals to build a new branding model."
To develop the Brand META model, Prophet conducted research with executives of leading brands in various categories, both international and local, to learn about the insights, experiences and mistakes from those who have successfully embraced brand building in China's digital age.