The Philippines ranks first regionally and third globally as home to the world's most confident consumers in the third quarter of 2015, despite posting a quarter-on-quarter decline of five points to a Consumer Confidence Index score of 117, according to the latest Nielsen Global Survey of Consumer Confidence and Spending released today. The year-on-year trend for the Philippines was up two points, however.
While consumer confidence across a number of Southeast Asia markets has taken dips in Q3 2015, the other countries in the region which remained as the world's top 10 most optimistic are Indonesia, Thailand and Vietnam.
After the Philippines, Indonesia closely follows as the market with the fourth most confident consumers, with a score of 116, dropping four points from Q2 2015 and down nine points year-on-year, while Thailand (ranked 5th globally) is flat quarter-on-quarter with 111 and down marginally (2 points) compared to the same quarter a year ago. Vietnam ranked 10th globally with a Consumer Confidence Index score of 105, up one point quarter-on-quarter and up three points year-on-year.
The Nielsen consumer confidence index measures perceptions of local job prospects, personal finances and immediate spending intentions, among more than 30,000 respondents with Internet access in 61 countries. Consumer confidence levels above and below a baseline of 100 indicate degrees of optimism and pessimism.
Meanwhile Malaysia, which posted the region's lowest Consumer Confidence Index (78) also posted the region's steepest decline, down 11 points quarter-on-quarter and 21 points year-on-year, largely driven by consumers' concern around currency devaluation and rising food prices. Globally, consumer confidence rose slightly to 99 in Q3 2015, up three points compared to Q2 2015. (See chart 1).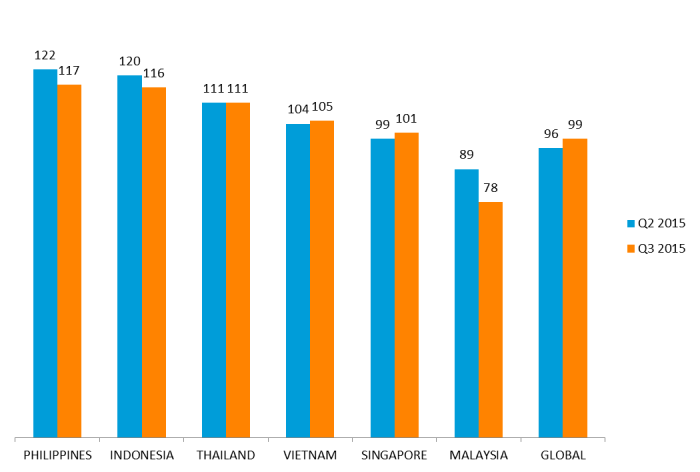 The survey further revealed that recessionary sentiment among Filipino consumers is down by one percentage point along with Singaporeans (-5pp) and Vietnamese (-3 pp). In contrast, recessionary sentiment is rising in Malaysia (+16pp), Indonesia (+10pp) and Thailand (+8pp).
In this round of the global survey, job security, work/life balance and health feature prominently in the Filipino consumers' list of key concerns (see Chart 2).

"The country's robust economy continue to keep the consumers' confidence in the Philippines bullish," says Stuart Jamieson, Nielsen managing director in the Philippines. "The growing recessionary sentiments across other Southeast Asia markets failed to dampen the optimism, only reflecting the same level of positive sentiment at 80% when it comes to the state of their personal finances and 75% positive outlook on local job prospects in the next 12 months. These figures are well above the global averages of 58% and 50% respectively."