Consumer confidence in the Philippines has rebounded from a dip last year caused by Typhoon Yolanda but Filipinos remain frugal despite their readiness to spend.
The country had an index score of 120 in Nielsen's Global Survey of Consumer Confidence and Spending Intentions for the second quarter, up four points from last quarter.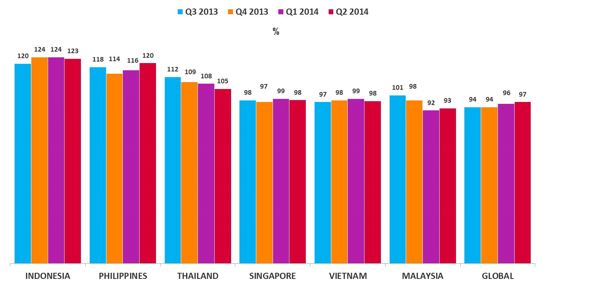 This is also a notable six point improvement from Q4 2014, when one the world's strongest storms swept the island nation in November. Nielsen owed the trend to its strong economy and growing middle class.
Around 8 in ten Filipinos is expecting their personal finances to be good or excellent in the next 12 months but are still notably prudent with their money, with another 80% of respondents keeping an eye on their household expenses.
"Although more Filipino consumers are joining the ranks of the middle class, these consumers have a strong focus on saving for household emergencies, health issues and the future in general," observes Stuart Jamieson, managing director of Nielsen Philippines.
"They are more aware of how they manage their day-to-day and long-term financial goals. To be able to tap into the expanding but financially-conscious middle class Filipino consumers, marketers should develop a range of products and services which will provide good value for money," he adds.

To save money, Filipinos will first limit their spending on new clothes followed by gas and electricity expenses. Interestingly, delaying technology upgrades was placed third on their money-saving priorities, confirming their growing technology-driven lifestyle and possible future demand.
The Philippines and Malaysia are the only countries who saw an increase in consumer confidence. However, Malaysia's index score of 93, up by a mere point from last quarter, is the lowest among the six countries surveyed and the only country below the global average of 97.
Indonesia recorded a one-point drop but remains as the most confident consumer market in the region for the sixth consecutive quarter since Q1 2013.