It looks like Nine West is ticking off its female audiences with its risqué new campaign.
Touting its shoes as the perfect "husband-hunting" shoes, the ad copy reads:
"Whether you're looking for a Mr Right or a Mr Right Now, we've got the shoe for that."
It's hunting season. If you're looking for Mr. Right or Mr. Right Now, we have a shoe for that:http://t.co/C61UmgJ83T pic.twitter.com/9eOzwZtGPG

— Nine West (@NineWest) August 1, 2014
Another one gets naughtier. Headlined with the copy "Anticipatory Walk of Shame", shows a woman carrying a Nine West handbag with a pair of its flip-flops poking out, suggesting a night out where a woman might need more comfortable shoes.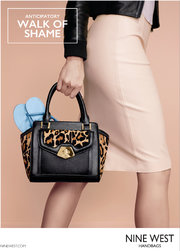 According to the New York Times, the campaign targets women aged 25 to 49 and runs in magazines, in-store ads and across its site.
Courtney Vincent, associate creative director at Peterson Milla Hooks, Nine West's agency said: ""Where the word 'anticipatory' comes in is that she's planning to do it, so you'll see in her bag that she brought along flip-flops because you never want to maneuver the next morning wearing whatever you were wearing the night before," Vincent told NYT.
"We want to create brands that we want to hang out with, and that's been sort of the personality we're trying to build with Nine West," she added.
Globally, the ad has been decried as offensive, 1950s and sexist. Here are some of the comments running on social media:
I didn't know I needed a husband to want nice shoes RT @TIME @NineWest new campaign sells 'husband hunting' shoes http://t.co/i0nD8h5ic6

— Crystal Isaac (@Crystal_Isaac) August 6, 2014
@NineWest Please tell me this is a joke. Really disappointed in you all. "Hunting season? ". You know and need to do better.

— Angel (@theeangelic1) August 1, 2014
@NineWest Cannot believe this campaign. What if I'm a lesbian or don't want a man? Can I wear your shoes? Come on over to the 21st century.

— Carey Shoufler (@carey_shoufler) August 1, 2014
@NineWest Shoes are cute, but 'really' sending women back to the 50's. Sell me shoes with a message to empower #women. Creativity? NOT !

— Mary Lynne Alexion (@MLAlexion) August 5, 2014
What do you think marketers?