With the Holy Month of Ramadan coming to a close and Hari Raya just around the corner, Netflix aims to dish out a couple of valuable life lessons this festive season.
From being forgiving to making up for one's wrongdoings, Netflix wants to encourage consumers to "keep calm and carry on" when life gives you lemons with a comic, with quotes from Netflix originals Stranger Things, The Unbreakable Kimmy Schmidt, A Series of Unfortunate Events and Lost in Space. The quotes urge consumers to "Smile until [they] feel better", and that as long as one has his or her family, that person is home.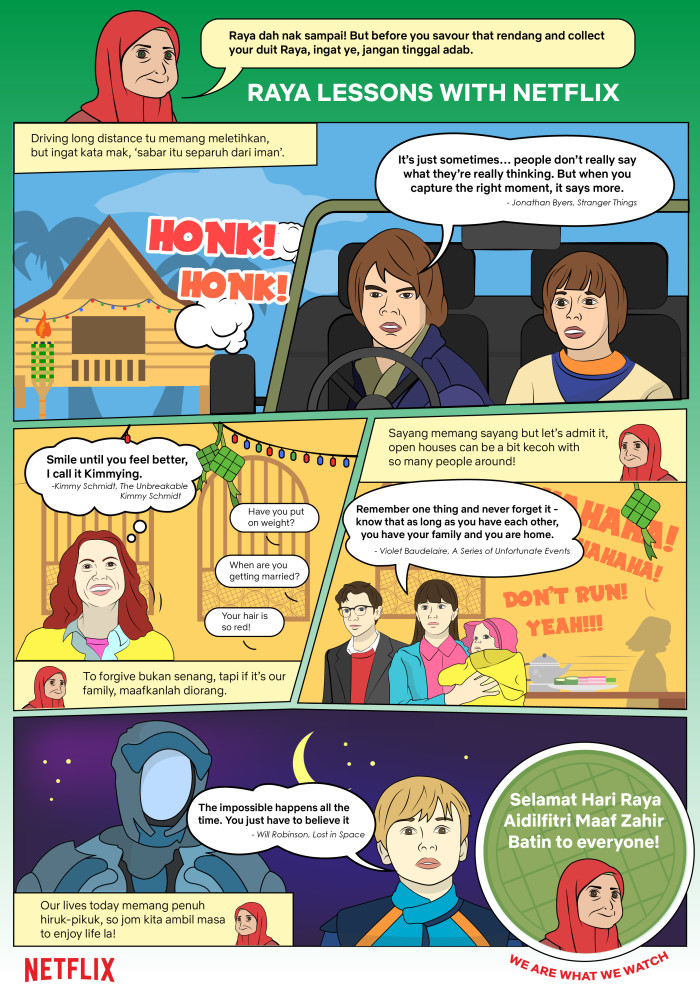 It also created an original pantun (a Malay poetic form) about celebrating Hari Raya, which also encourages consumers to "Download Netflix, and watch it now".
Perkara Pelik, mengejut minda,
Paranormal misteri, penuhnya rahsia,
Sebelas pagi, bersantai ngan keluarga,
Libur berkala Ramadan dan Raya.
Gaya fesyen bertukar ganti,
Seperti teratah Titus dan Kimmy,
Aneka baju raya berwarna-warni,
Keyakinan hidup tidak ditandingi.
Walau jahat bagai Ular Riverdale,
Kaki putar belit yang amat penyayang,
Musim Raya ini ampunilah yang degil,
Muat turunilah Netflix, dan tonton sekarang.
Sibuk termenung, hilang di angkasa,
Balik ke kampung untuk beraya,
Tenang rasanya bila berkumpul bersama,
Selepas Raya, kembalilah ke kota.
Fans of Stranger Things would also have noticed that Netflix's recent Raya video adopted a similar theme, building up suspense at the beginning of the video. The spot garnered over 1.8k reactions, 76k views, 797 shares and 121 comments on Facebook at the time of writing. Arcis Communications was involved in the creation of the comic and pantun. It also collaborated with social agency C27 to for the video.
Check out it out here: