As marketing budgets shrink and purse strings tighten, more and more agencies are now vying for the same marketing dollar. As such, it is not unusual to see creative agencies eyeing the PR dollar or media agencies entering creative pitches.
Highlighting this growing phenomenon was Su Lin Lau (pictured centre), head of marketing services at telco Maxis Communications. Lau shared and commented on 4As kancils video about Maxis' creative agency Ensemble being rejected from being part of the 4As.
In case you didn't know what happened, we've got you covered.
Most recently, creative agency Ensemble under the IPG Mediabrands family, applied to be a part of 4As. Unfortunately, its application got rejected because it did not meet certain "criteria".
Calling out this matter publicly on social media was Ensemble's client Lau, who works with the agency on its creative executions. She published a post on Facebook where she highlighted 4As decision to reject a Maxis' brand agency, Ensemble's request to be a 4A's member and said:
"If [Ensemble] is 'creative' enough for Maxis, Unilever, Heineken, J&J and KFC and more, then why is it not creative enough for the 4A's?"
Read the full post here: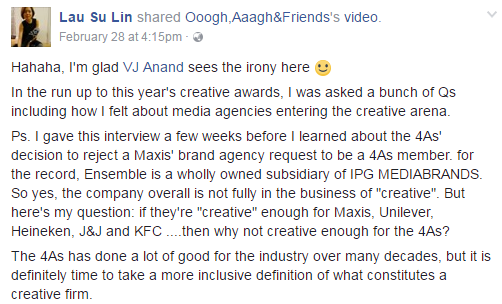 On her post, she also added that 4As has done a lot of good for the industry over many decades and now "it is definitely time [for the organisation] to take a more inclusive definition of what constitutes a creative firm."
In an exclusive quote to A+M, Lau said: "I can't speculate on the 4As council's reasons for rejecting Ensemble for not meeting the qualifying criteria as a creative agency. I disagree though. Ensemble earned their place as Maxis' creative agency on the back of consistently great creative work that works[…]"
She added that she is" baffled" about why the 4As would think that "any creative agency with Chan Woei Hern and Mun Tuck Wai as lead creatives is not the one that is creative enough."
Johnny Mun (pictured right), president of 4A's confirmed the rejection to A+M and stated, "They did not fit the criteria as they were not eligible." When asked what the criteria was, he declined to comment citing confidentiality issues. However, he added the agency has been encouraged to reapply once they fulfill the criteria.
Amit Sutha (pictured left), managing director of Ensemble Worldwide said the agency felt a little let down by the rejection.
"Yes, we applied and we were rejected. Ensemble as an agency respects the 4A's for all that it has done for the ad world, but somewhere we also feel a bit let down for being rejected on mere technical grounds," Sutha said.
He added,  "4As as a part of its Kancil award says 'evolve or die.'  Hence, while the awards stressing on the need to evolve products, we also need to be more inclusive about our definition of a 'creative agency."