Consumers today live their lives from screen to screen, leaving digital footprints wherever they go. Yet marketers struggle to reach them at the right moment, with the right message, on the right device.
In February 2016, Atlas by Facebook commissioned Forrester Consulting to evaluate trends and adoption of cross-device advertising technologies. The study was spurred by the fact that business-to-consumer (B2C) marketers are now racing to find the right technologies to target, serve, and measure the effectiveness of advertising campaigns across devices, browsers, and publishers — across everything.
To further explore the topic, Forrester developed a hypothesis asserting that the proliferation of devices makes it difficult for advertisers to reach their audiences across everything without adopting new technologies.   The study found that:
Marketing and advertising professionals need solutions that will allow for improved targeting of consumers and measuring of ad effectiveness, regardless of where the consumers are or the device they are using.
In conducting an online survey with 252 marketing and advertising professionals in the US and the UK, Forrester found that while companies that currently use cross-device technologies have realised tangible business benefits, there is still an immense opportunity for them to further optimise their cross-device strategies.
"Cross-device solutions are gaining significant traction, and early adopters have reaped many benefits. However, lack of clarity around what success looks like prevents marketers from capturing greater value from their solutions," said the study.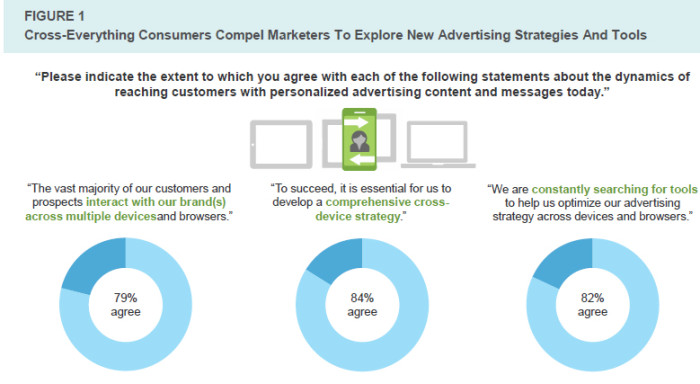 The study has also uncovered four key findings:
In their eagerness to invest in cross-device solutions, marketers lose sight of the big picture.
As marketers jump on the cross-device technology bandwagon, some lack a clear strategy for prioritising the most important features and functions they are looking for, which could lead to selecting the wrong solution for their company. And once the solution has been implemented, there is no clear consensus for evaluating its success. While first-mover advantage has its value, it is also critical for companies to establish a clear strategy to ensure the success and ROI of cross-device solution deployments.
Though early adopters have already captured business value, they face a long road to optimisation
Among companies that are already using a cross-device solution — the "Cross-Device Leaders" — 77% reported considerable or very high business impact from their cross-device advertising campaigns. However, despite this initial success, only 19% of these marketers describe their current campaigns as "fully optimised" across devices and browsers. This gap further illustrates the need for marketers to understand and define what success looks like for their organisation and measure cross-device campaigns against those criteria.
Most marketers lack the capabilities and tools to reach cross-everything consumers
Though 84% of the marketers surveyed agreed that developing a comprehensive cross-device strategy is critical for success, few have confidence in their cross-device capabilities today. Only 20% are very confident in their company's ability to serve the right message on the right device, and only 14% are very confident that they can measure cross-device conversions.
With these challenges in mind, 82% said that they are constantly searching for new tools to help optimise their cross-device advertising strategies.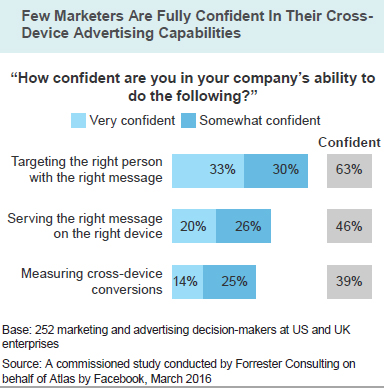 Cross-device technology solutions are a fast-emerging investment priority
While about a third (35%) of respondents reported that their companies have already implemented a cross-device solution, adoption is set to rise to 81% in the next year, with 46% planning to implement a new solution in the next 12 months. These marketers see targeting and measurement as the primary use cases for cross-device solutions.