According to Dun & Bradstreet's (DB) Business Optimism Index (BOI), firms in Malaysia are anticipating a healthy outlook for the final quarter. However, this optimism doesn't aide in the way marketers are approaching the coming year.
The index, released quarterly and the third of its kind in Malaysia, is based on a business sentiment survey designed to capture business expectations and track how the business community perceives the business environment, and where they think it is moving.
The latest survey revealed that Malaysian businesses are confident about the volume of sales, net profits and hiring prospect, with strong domestic demands and private investments continuing to to be the key drivers for the positive outlook.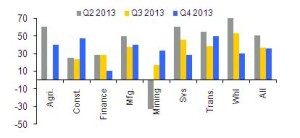 Chart 1: Volume of sales across industries
An increase in volume of sales with a net optimism index of +35.8% with transportation and construction sectors as most optimistic, and the financial sector as least optimistic.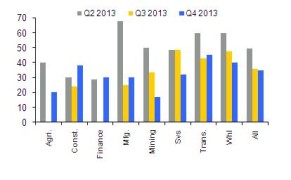 Chart 2: Net Profits across industries
Net profits are expected to increase significantly to +35.0% for Q4 with transportation, wholesale and construction sectors as most optimistic and the mining industry as the least optimistic sector.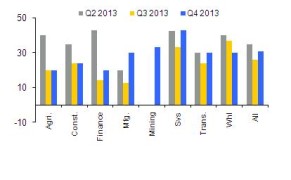 Chart 3: Hiring prospects
Hiring levels are likely to increase to 30.8 percentage points after experiencing a marked moderation in the previous quarter.
Eugene Zachariah, marcom and product development manager at D&B, shares with A+M that while the optimism displayed reflects the growth potential for businesses here despite prevailing risks posed by external global developers, marketers will remain cautious despite the uptick.
"Any increase in marketing budget is likely to remain modest as firms are tackling rising business costs and focusing on keeping their business as lean as possible in the short-term."
A sectoral analysis reveals that both services and mining industries have emerged as the most optimistic sectors with all leading business indicators in the expansionary region.
According to Bank Negara Malaysia, the Malaysian economy is set to expand between 4.5% and 5%.