Real estate services company Jones Lang Lasalle (JLL) launched JLLProperty.com.hk today, the first JLL Property site to premiere in Asia.
The online portal features a database of office properties which prospective tenants can view photographs of and information about before calling up a JLL consultant.
In today's launch, data regarding 280 commercial properties, most of which are Grade A offices managed by JLL clients, have been rolled out in the database.
The online portal is currently available in English and traditional Chinese, with a simplified Chinese version tentatively scheduled to be launched in October. Use of the database requires online registration.
"Hong Kong offices get snapped up very quickly, so a digital search portal is definitely the way to go," Jo Soo, head of marketing and communications at JLL in Hong Kong and Macau, said.
The next phase of the launch will take place at the end of Q2 next year, where the database will include mostly Grade B and C office properties managed by JLL. In the long run, there are plans to include residential and retail properties in the same database.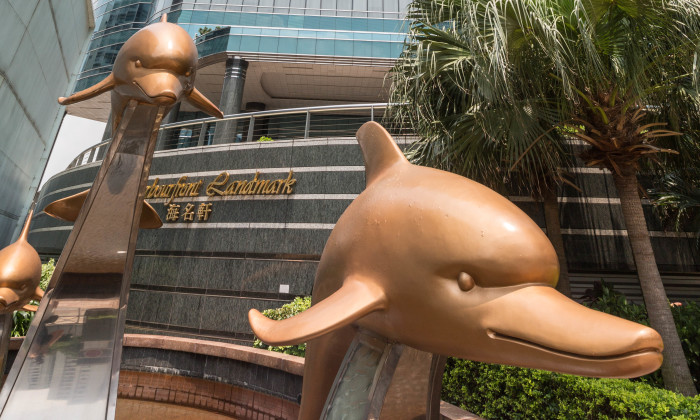 JLL Property has been launched in Germany and France, and will be launched in Japan and Shanghai, China, with each site taking about a year to build.
In preparation for the JLL Property launch, JLL launched online lifestyle news publication TURF in July. Its coverage is geared towards office workers and entrepreneurs, covering food, fashion, decor and health and fitness with an office-oriented angle.
The site also publishes feature stories on property-related topics such as digestible summaries of JLL research papers and interviews with JLL clients and other industry experts.
After the launch of the database, TURF will also publish stories on properties available in the database, such as those run by JLL clients like Swire Properties, Hong Kong Land, Sino Group and The Wharf.
The objective of TURF is to help drive traffic to the JLL Property site through editorial content that attract readers potentially interested in renting office spaces, such as those in the SME space. Almost two months old, the publication is read by an average of 1,000 unique users per week.
"For the first two years, this is an investment project for JLL," Soo, also editor-in-chief of TURF, said.
"We have ads placed by Tang Tang Tang Tang, Green Monday, Localiiz and Flight Centre but advertising is not our main business with TURF."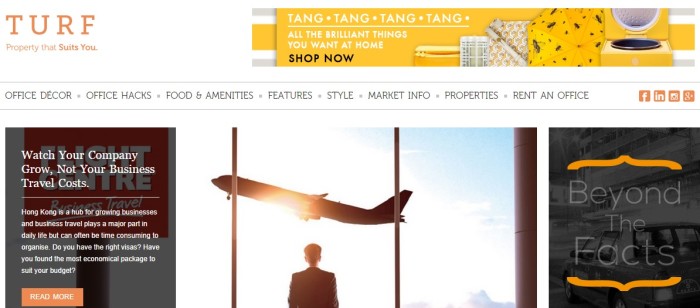 While the first batch of offices available in the database will be mostly Grade A offices not affordable to entrepreneurs running small start-ups, Soo argues that enterpreneurs are a growth market.
"A lot of enterpreneurs work at home, but when their businesses grow, they will hire staff. They will need to rent an office but not necessarily the entire floor – they can share Grade A office spaces with other start-ups. MNCs have relatively less flexibility to grow," Soo said.
"We want to focus on entrepreneurs, not necessarily the big brands, by offering advice on how to start a business or work visa applications, through stories on TURF."
Soo comes from a public relations background. She worked as director of property and consumer practice at Edelman in Hong Kong for eight years. Prior to that, she was VP at Weber Shandwick for Greater China, representing clients such as Apple, Cameron Diaz and Michael Wong.
At first glance, it's not easy to tell that TURF is a publication sponsored by JLL.  Readers must click into the Terms of Use page to be sure that the site is indeed run by JLL.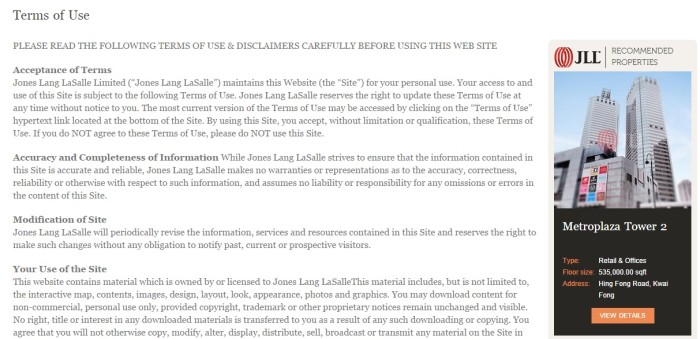 "TURF is powered by JLL and there are many websites out there that are powered by companies.  Another example are companies that own many brands," Soo said.
"TURF is a publication that is part of JLL and we will leave the JLL branding as it is now. All ads promoting JLL properties are clearly denoted as 'JLL Recommended Properties'."
France is the only other market that has a publication equivalent to TURF connected to the French JLL Property database.
The database will be mainly promoted through partnership marketing rather than formal advertising.
Nastasia Malatesta, partnership and marketing manager at JLL, said, "We will partner with companies where we can both have a mutual gain, promoting and getting traffic to JLL Property."
For example, to encourage people to register as a database user, JLL has partnered with Time and Fortune magazines to offer four and three digital issues respectively plus online access to the magazines to newly registered users.
Bloomberg is an advertising partner of the JLL Property portal while an upcoming partnership with residential property portal Square Foot are in the works.
Meanwhile, TURF is marketed through its social media accounts on Facebook, Instagram, Linkedin and Google+.
The publication, which took eight months to plan and is currently staffed with five full-timers and approximately 10 contributors, will begin offering eDMs starting next year, with user-generated content and videos as potential content TURF will explore.
Malatesta, previously Comic Relief assistant producer at BBC, said, "We are interested in including a variety of content from contributors to form a collaborative community, even from everyday users."
Apart from aggregating food stories from Foodie, TURF also runs competitions to boost readership.  A recent competition was organised in collaboration with restaurant Cali Burger.