Emily Cho, senior VP of marketing and PR at Jin Air, says established agencies can easily fall into routine ways of doing campaigns and the onus is on clients to give a clear direction to the agencies to produce creative ideas.
The second daughter of Yang Ho Cho, chairman and CEO of Korean Air, Cho had worked for a year as an account executive at Korean ad agency HS Ad before joining Jin Air in 2012.  The budget airline was founded in 2008 and is a wholly owned subsidiary of Korean Air.
"The most important lesson I learned from the ad agency is that you have to depend on the clients' directions for producing a creative ad campaign.  Money is another constraint that limits your creativity but it is merely a small part of that.  If the client has a clear direction that it wants to take, then it is much easier for the agency to be creative," Cho said.
She added, "Now that I am working in-house, it surprises me that I have to put pressure on the agency to be bolder and more creative.  It's easy to understand that agencies soon fall into routine work when bringing creative ideas to their clients.  You have to send a clear message to the agencies.  Once that message is accepted by both parties, it will become a great partnership."
Cho says she prefers working in-house because it's more challenging and she has more control over campaigns.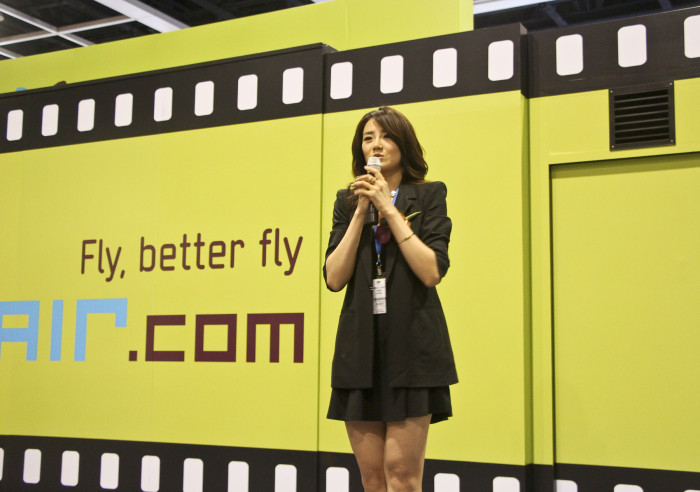 True to the airline's Korean roots, promoting Korea as a travel destination is a focal point in its marketing strategy.
For example, the airline produced a short film in the style of a Korean drama showcasing beautiful sites in the country through the eyes of a young man and his love interest, played by Korean actor Lee Hyun Woo and Japanese actress Nishiaki Aina.
It was shown at the International Hong Kong Travel Expo earlier this month and will tour Macau, Shanghai, Osaka and Bangkok by the end of this year.
Watch the trailer here:
"Our major goal is to raise the awareness of Jin Air and Korea, so when customers see us at the point of purchase, they will be more likely to remember us," Cho said.
But she cautions against focusing on only one element of Korean culture to market goods and services, such as celebrities.
"The Korean wave has started many years ago. We are confident that it will not fade out so soon. People from all around the world are raving about Korean culture, whether it is K-pop, Korean dramas or films. They are dashing to Korea to get a real feel of the culture," Cho said.
She said, "However, the Korean wave involves many aspects. Some brands only utilise one element and this can create risks for the brand."
As an example, Cho refers to brands that only use Korean celebrities in their marketing campaigns.
"When a Korean star is no longer popular and is forgotten as other celebrities rise up, or when there are negative rumors about the celebrity, the brand's image will be affected and it will a much longer time for the brand to re-establish a positive image," Cho said.  "That's why we choose to use the Korean wave as a whole, taking a bigger picture of Korean culture rather than focusing on just one element of it."
In terms of pricing campaigns, which are integral to the marketing strategy of low-cost carriers, Jin Air plans to expand its bi-annual early bird sale known as Jin Market beyond Korea in the future.