Eight augmented reality face filters are now available on Instagram globally.
The new filters introduced to the Facebook-owned app function exactly like Snapchat's filters. The feature works on both the front and the back camera of the phone. It can be found by opening the camera interface in the app, and tapping the "smiley face" icon in the bottom right corner.
The new feature can be used in all shooting modes, including photo, video and boomerang. Users can access the new feature by updating their Instagram app to the latest 10.21 version.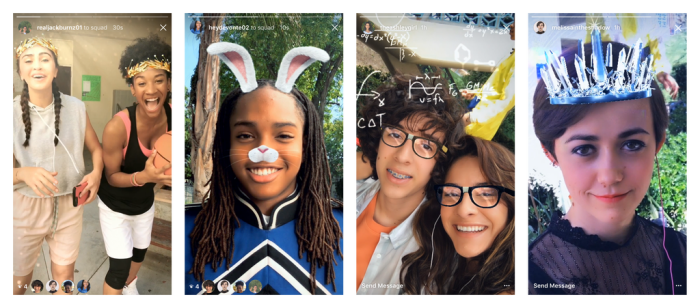 The update marks yet another time Instagram clones feature from Snapchat. In October 2016, Instagram mimicked Snapchat stories to launch Instagram stories, and successfully surpassed Snapchat earlier this month with 200 million daily active users using the feature.
When asked about the similarities between Intagram's new features and Snapchat's existing ones at the TechCrunch Disrupt conference in New York,  Instagram's head of product Kevin Weil said,
If we're being honest with ourselves, this is the way the tech industry works and frankly, it's how all industries work.
Instagram's CEO and co-founder Kevin Systrom, who said last year that "they deserve all the credit" in reference to Snapchat creating Stories, told TechCruch that the goal essentially is making Instagram more useful to its users, driving its mission to bring people closer together. "Duplication as a justified means to an end," he said.