If you've been watching mobile wallet trends in Hong Kong and waiting to see if they will stay, it's time to take action.
In GroupM's latest Mobile Wallet Study project, a total of 600 Hong Kong individuals aged 18-54 who used a smartphone in the past 12 months were recruited, and asked to complete online surveys in January 2017.
The result: 2.46 million Hong Kongers identified as mobile wallet users, which accounts for 65% of the population aged 18-54 using smartphones.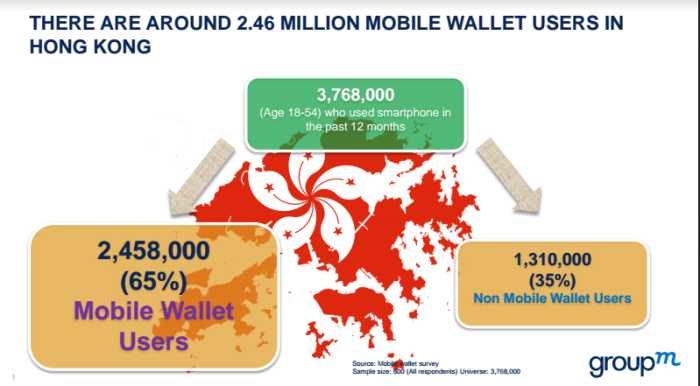 The mobile wallet user population slightly skewed towards males, and over half (61%) of them are young consumers aged between 18 and 39.
On the other hand, there are 1.31 million non-mobile wallet users in Hong Kong, accounting for 35% of the population aged 18-54 with smartphones. They are comprised of more female consumers and skewed towards the mature segment.
90% of users have used a mobile wallet several times in a month while 40% actually use it on weekly basis. Supermarkets and convenience stores are popular usage occasions and the average monthly spending on mobile wallet is around HKD $630.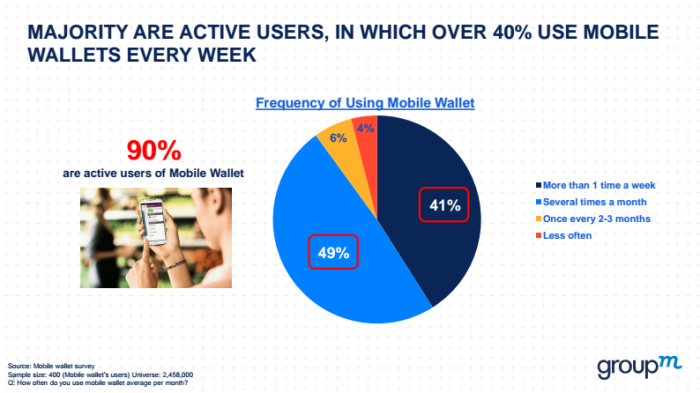 Regarding the types of mobile wallets used in the past 6 months, Android Pay and Apple Pay are undoubtedly the market leaders at 49% and 46% respectively, followed by Tap & Go (34%). When zooming into the banks used on mobile wallets, HSBC is used by nearly half of users and Hang Seng Bank comes second - used by over one-third of consumers - while Standard Chartered Bank and Bank of China follow at a distance.
The outlook for adopting mobile wallets stays positive and close to 60% of mobile wallet users express that they are likely to use mobile wallets more often in the coming 6 months.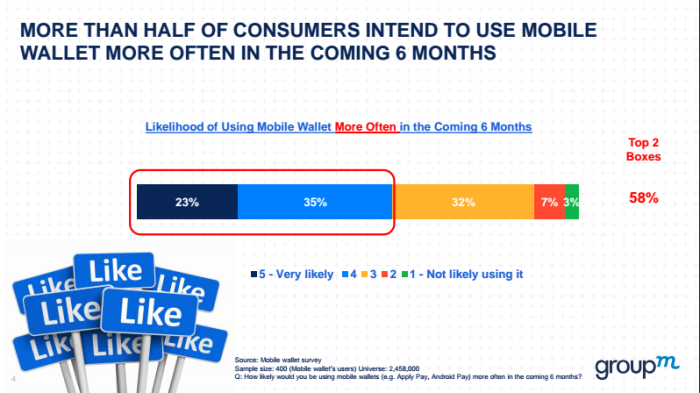 While one-fourth of the non-mobile wallet users actually show high interest in exploring mobile wallets, close to half stay lukewarm and observing. Their laid-back attitudes are partly attributed to the lack of understanding of how mobile wallets are used in retail shops and concerns about security issues.
Melanie Lo, CEO at GroupM Hong Kong, suggested businesses look at bank and merchant incentives like discounts and cash rebates, which have proven to be the main drivers in attracting new customers.
Another key is to enhance the business' point-of-sale payment system and provide efficient and seamless shopping experiences by accepting mobile payment.
"Security is usually the first hurdle and always the top concern when using mobile wallet especially among the mature consumers. Undeniably, proven reliable security technology will not only attract more new users, but smooth and worry-free transaction experience will also boost more usage in the near future." Lo explained.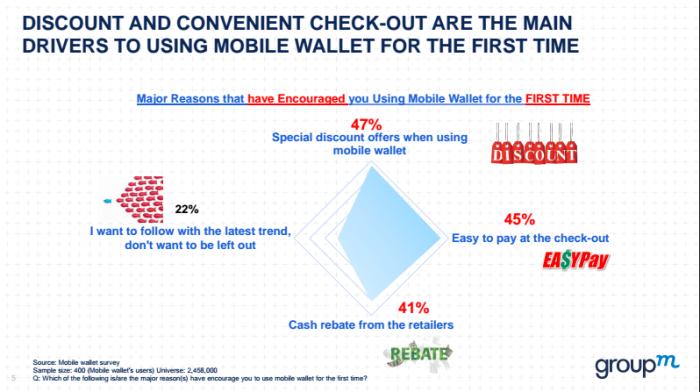 Paying with mobile wallets is not a far-reaching phenomenon, but happening among many consumers in Hong Kong at this instant as there are more than 5,000 retail locations in Hong Kong such as 7-Eleven, Circle-K and McDonald's now accepting payments made by mobile wallets.