IKEA's latest creative for its Soft Toys for Education charity programme – look familiar?
The Swedish brand has been posting pictures of its soft toys in different poses on its Hong Kong Facebook page for the past few days in support of the charity programme.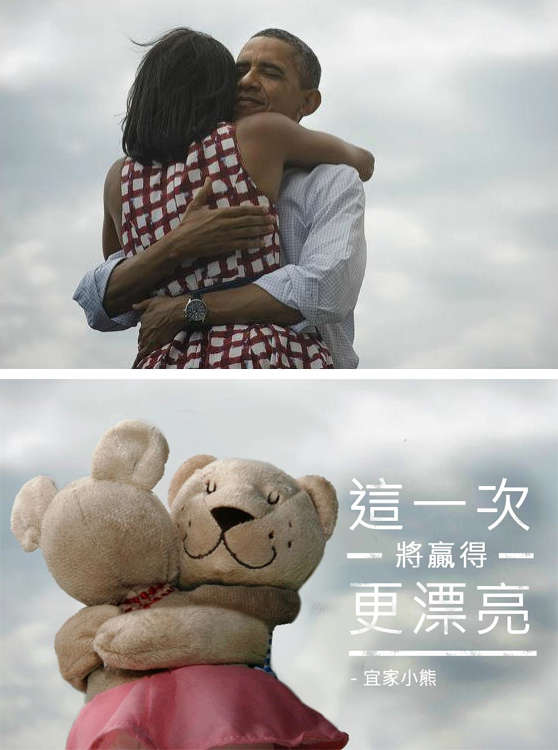 The "embracing bears" image – posted yesterday and garnering more than 800 likes in a day – rode on the photo of President Barack Obama and First Lady Michelle Obama embracing after he learnt that he had secured four more years in White House – and its viral power.
"For brands, creating interesting, original and relevant content are the keys to success in its social media," said Rudi Leung, general manager of Tribal DDB Hong Kong and Guangzhou and director of digital and social for DDB – the agency behind the campaign.
"IKEA is an international brand therefore participating in the conversation about global affairs becomes very natural."
Leung added the campaign strategy on Facebook was to use one of the soft toys as the key character to tell a true story of IKEA's volunteers travelling to rural Yunnan, China and visiting local schools and families.
As the opportunity of creating an "ObearMa poster" came along, Leung said everything was done within a few hours with the client approving the copy and layout via Whatsapp.
"Agencies and brands should always stay aware of what the trends and topical conversations are. Picking a hot topic is one thing, whether it can associate with the brand and produce a positive response is the real challenge," he said.
In addition to Facebook, the campaign for Soft Toys for Education is also supported in print, mobile and public relations.