Hyundai's campaign suffered a setback yesterday when its hashtag was hijacked by activist group Anonymous.
Several influential accounts tweeted about children being sold to sexual predators in Brazil and Brazilian police activity, using #becausefutbol to point out the association with the World Cup.
This caused an influx of activity around the #becausefutbol -more than Hyundai had been able to generate on its own in the days prior to the takeover, according to a report by uberVU via Hootsuite.
Here are some of the controversial news that have been tweeted against Hyundai's hashtag.
Worker dies in Brazil, children sold to #WorldCup's sexual predators for $2.18 #BecauseFutbol http://t.co/ckX1BsvlSH pic.twitter.com/28jcbzI6om

— Anonymous (@YourAnonNews) June 11, 2014
#Brazil – The state is preparing for war against the poor #BecauseFutbol. pic.twitter.com/GhxgEx7GKn

— Anonymous (@AnonOpsLegion) June 11, 2014
You'll see the goals and the games.. The people of Brazil have seen tanks & bullets. #BecauseFutbol #NaoVaiTerCopa pic.twitter.com/y1HraXysc2

— ѕyndιcalιѕт (@syndicalisms) June 11, 2014
These are the conversation topics the hashtag has been associated with, according to Hootsuite.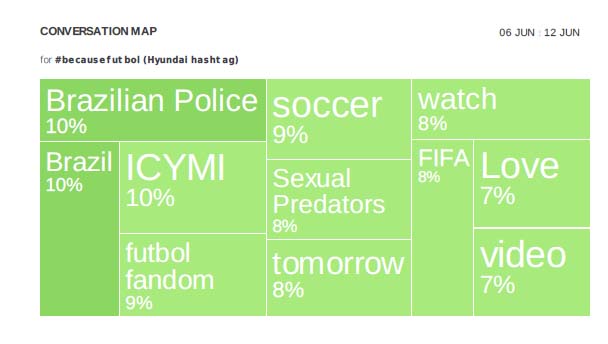 Use of the hashtag also spiked on Wednesday: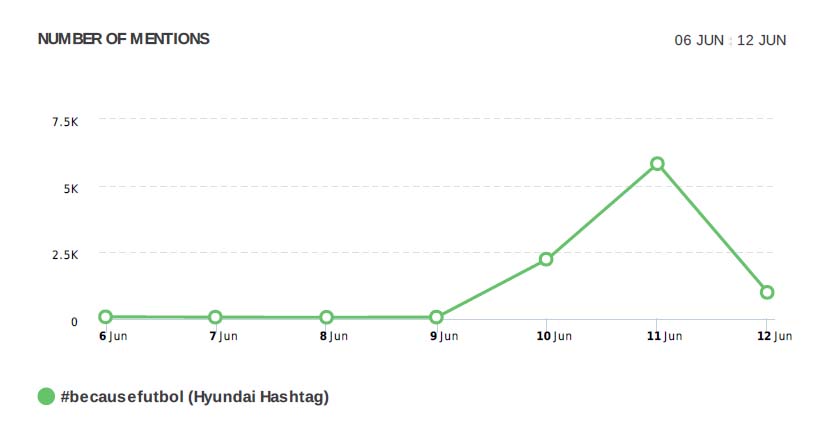 Hyundai launched its World Cup ads under the #BecauseFutbol theme earlier to publicise the redesigned 2015 Hyundai Sonata. The campaign was created by Innocean USA. Marketing is reaching Hyundai for comment.
Here are Hyundai's ads, "Boom" and "Avoidance":