HTC, the Taipei-based mobile provider which has been suffering weak sales for years in the local market, will embark on a new branding journey to revive its business with a campaign launching today spanning television, print, OOH and online media.
Developed by Uth Creative, the product-oriented commercial marks the kickoff of the company's biggest repositioning project yet to court more female customers, a "highly potential" market segment in the smartphone arena that the company is yet to explore.
The storyline is simple. Eliza Sam, a popular Hong Kong-based actress, is preparing a celebratory cake for her family to back the new model HTC One E8 launch:
As a global brand, HTC has failed to build brand awareness in Hong Kong as it has struggled to compete against the sophisticated Android and iOS markets.
"Indeed we missed the female demographic before, a segment that is highly potential," Elsa Chow, head of Marketing, Hong Kong and Macau at HTC, admits.
"We learnt from our mistake that we overly focused on hardware specification of our products without putting enough effort on marketing. We failed to speak a more down-to-earth language to communicate to our audiences," she added.
To reverse this, the brand is looking to strike a balance between its exiting male customers and new female segment.
The 30 second commercial, which will run until early September, is followed by a series of online activations in collaboration with digital beauty channels including she.com and beauty exchange forum.
A set of selfie tutorials is slate to launch on the channel partners in response to the selfie frenzy; along with viral videos themed around roaming service to stick up for the new marketing approach.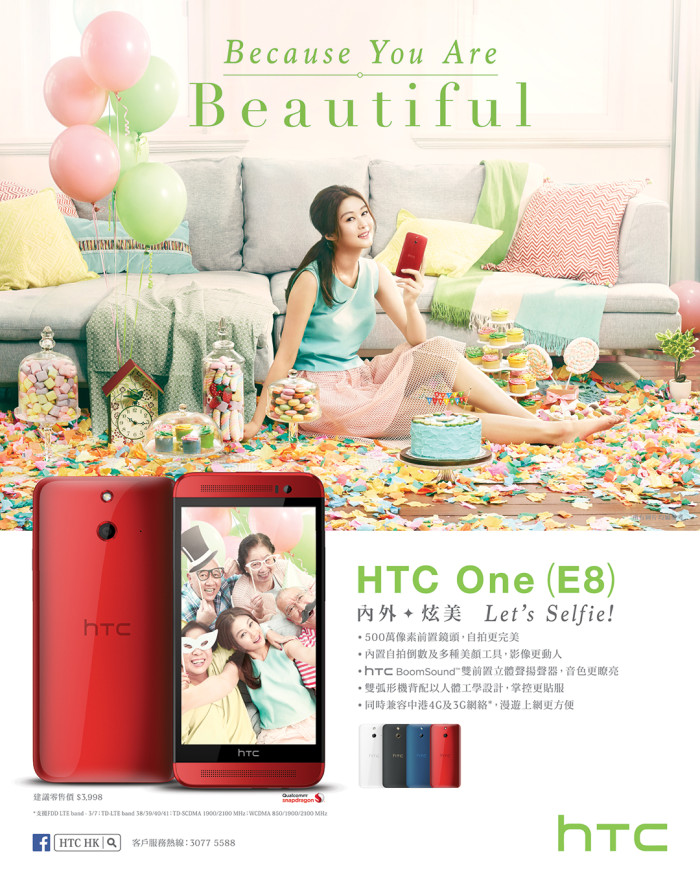 Credits:
Client: HTC HK, Limited
Product: HTC One (E8)
Creative Agency: Uth Creative Group Limited
Creative Team: Charles Wong, Benny Yau, Arthur Lam
Account Management Team: Desmond So, Winnie Yuen, Cathy Law
Director/Photographer: Ki Workshop Ltd
Media agency: PHD Hong Kong