HSBC launched an offline and online brand activation – '#PaddleTogether' – on Facebook to show its support for the unwavering spirit of dragon boat athletes, and celebrate the values of togetherness, strength and resilience which the bank shares with the Hong Kong people at this year's Dragon Boat Festival.
HSBC invited Rebecca Lin and Carol Mui, two talented mural artists, to created an piece of artwork which depicts dragon boat athletes in the throes of competition. The artwork is then displayed both offline and online.
The mural, measured 2 by 2.5 metres, is prominently displayed in Stanley Plaza from now until early July 2018 for public viewing.
Also, a time-lapse video of the mural's creation is shown on HSBC's Facebook page, and the public is encouraged to share their memories of past Dragon Boat Festivals, and what it means to them.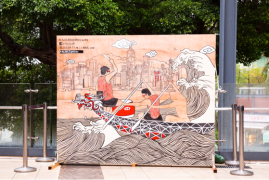 "Our #PaddleTogether activation reflects the synchronicity and endurance of dragon boat athletes while also showcasing Hong Kong's local creative talent," said Diane Chiu, head of marketing Hong Kong, retail banking and wealth management, HSBC Hong Kong.
"The Dragon boat races have transformed from a Chinese tradition to an international sport which exemplifies the internationalisation that HSBC had experienced. We also think the sport itself requires the team to paddle together as one which perfectly embodies togetherness – an apt metaphor for HSBC's brand promise, 'Together We Thrive,'" she added.