Typhoon Haima has not been the only one stealing the show over the weekend. Since last Thursday, the city's attention has been drawn to HKTVmall's latest campaign, "Win $4 Million to buy a home!". Customers are encouraged to download the online shopping mall's app to win the grand prize of HKD 4 million, or other prizes valued at HKD 100,000, in a lucky draw.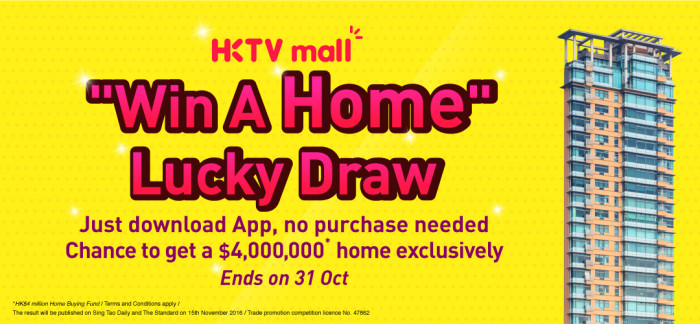 Launched on October 20th, the campaign encouraged any Hong Kong citizens to download the HKTV mall mobile app, then fill in some simple personal information for identity verification, and they're in the lucky draw to be held on 5 November.
Catchy taglines such "HKTVmall grants you a house"and "Join the lucky draw to win a home" are riding on the city's outrageous property pricing problem, securing the online shopping mall more than 1.7k wows and likes on its Facebook post.
Ricky Wong, chairman of HKTV, said that the marketing stunt aims to expand HKTVmall's customer base and promote its newly opened shop at North Point, the latest effort to enhance the online shopping mall's online and offline synergy.
"After more than a year's continuous efforts, we have laid a solid ground of operations. Now, we are focusing on the expansion of our customer database, by acquiring new customers and increasing order numbers to promote online shopping in Hong Kong. The opening of a physical shop and the launch of a lucky draw are just the starting points," he said.
Jessie Cheng, associate director, corporate communications at HKTVmall, added that both traffic and new users have shown a notable increase since the launch.
"We have quite a number of hot deals across different product categories such as supermarket, home & family, fashion and beauty, to attract lucky draw participants to be our customers. So far, there has been a double digit growth in daily sales orders during the first two days of campaign," she told Marketing.
Many are once again surprised by HKTVmall's unprecedented, aggressive idea of giving out real cash in a marketing campaign. "This lucky draw is no kidding," said one, "Ricky Wong is so crazy, but I like him." Another suggested that "he is trying too hard to keep his business".
The mall has a bit of a record of wow-ing the city, such as launching a massive MTR ad campaign last year that took over a total of 3298 ad panels and 119 tracks across 51 MTR stations for two weeks to back the geographically varied "HKTVmall Summer Giveaway" promotion. (Read more: The story behind HKTVmall's HK$30m MTR takeover).
"Comparing to the MTR ad campaign, the lucky draw might not be an expensive campaign, considering you can gather all the Hong Kong people's phone numbers and emails to do lead generation marketing," one comment suggested. "But the challenge would be to retain the customers."
Launched on 2 February 2015, the Ricky Wong-owned online shopping mall claimed to have achieved satisfactory performance over the past year.
The mall said it has recorded around 991,000 users visiting HKTVmall via unique devices in September 2016, and has 128,000 customers who have placed purchase orders over the past year. For the 6-month interim results ended 30 June 2016, the mall said it has brought in more than HK$67,460,000 in turnover, 5 times as much as the turnover for the corresponding period last year.