To say advertising is a quirky industry would be an understatement.
It is safe to say, it can get downright crazy with the hours, painful clients and ridiculously fast pace the industry is evolving in. We took a quick look at the Twitterverse to see how real life agency folks describe their daily work flow in ad land. Here are some funny (but down right real issues) tweets we came across.
Here's one fans of Netflix's Stranger Things can relate to.
lights in the next door office just flickered on and off pls don't be a demogorgon pls i need to launch these campaign sites #agencylife

— Putri Natasha Adnan (@putrinatt) October 13, 2016
In fact, Fridays can be the weirdest days of all.
So far, I've chatted about ovaries, written some coupon headlines, and taken everyone's booze order. Yep. It's Friday. #agencylife

— Turner L. Watson (@TurnerWatson) October 14, 2016
And the reality of working in an agency is…
Today I will be attempting to answer 300 emails, so thanks for your patience. #agencylife #workingnonstop

— Red Sofa Literary (@RedSofaLiterary) October 9, 2016
Finishing work at 3am #advertising #agencylife #sleepdeprivedgifs pic.twitter.com/My5DedJRML

— Lucy Bugler (@lucybugler) October 7, 2016
Me at status meetings. #agencylife pic.twitter.com/zp5AU3Kjq0

— J A S O N (@jasonsyptak) October 6, 2016
When you need to escape the office. #agencylife #VR #tech pic.twitter.com/ODNZ1SfOyQ

— Stephanie Greenall (@SDGreenall) October 6, 2016
You can also forget keeping to your healthy diet resolution!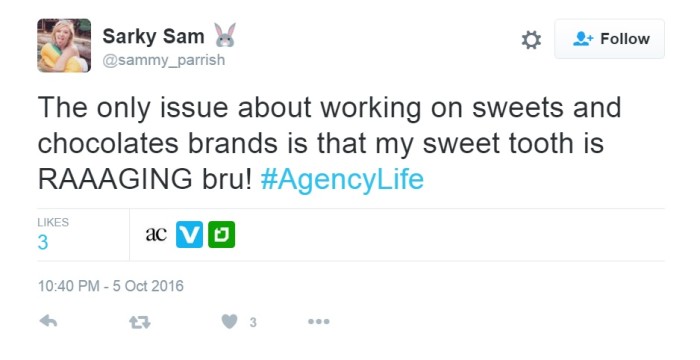 When all the creatives are drinking by 3pm and all the programmers have the lights off in their offices throughout the day #agencylife

— Lydia C (@likelyds) October 6, 2016
And duh, clients can be painful.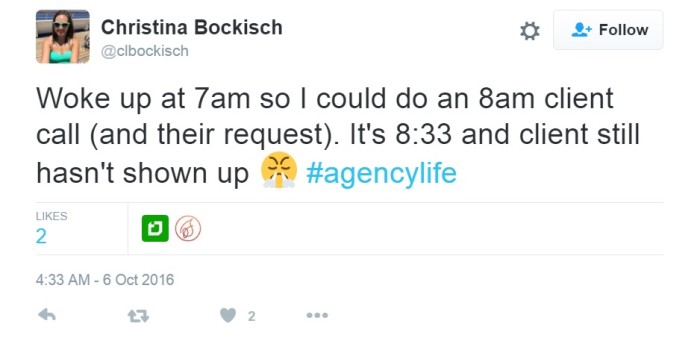 Dear client: I'll get that document to you by EOD. Translation: I'll get that document to you at 11:59 p.m. #agencylife

— Beth Wilson (@BethB_Wilson) October 6, 2016
There should be a law against brands posting updates with low res images and typos. #agencylife #branding

— Monpasha (@moomeep) October 7, 2016
Why do clients insist on having a responsive website but then complain about "the fold"? #agencylife #design #uxdesign

— Monpasha (@moomeep) October 6, 2016
Sometimes technology too can be annoying.
The new sophisticated office printer takes so long to print, I think it proofchecks each file before printing #agencylife

— shaista wadhwania (@Shais17) October 6, 2016
But you know what, at the end of the day, its not so bad. It trains you for real life!
Just leveraging #agencylife as training for all of this sleepless night stuff that comes with babies. ALL-NIGHTERS? GOT THIS.

— Aimee Woodall (@aimeewoodall) October 6, 2016
 And the networking is awesome. Best of all are the friendships forged. 
Got myself a couple of new mates at work. #digitaslbi #agencylife @ DigitasLBi UK https://t.co/jImHccQQFX

— mark hothi (@gizzi_m) October 6, 2016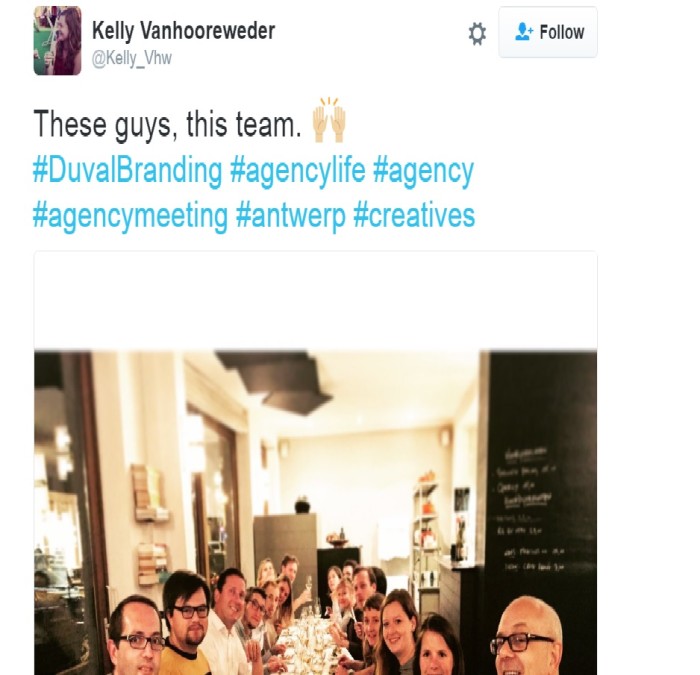 #media lunch with @TwitterAU and @iwheeler – good times! #agencylife #aussiemedia #admen pic.twitter.com/rIF9NjBp59

— Sammy T Rock (@MCSammyT) October 7, 2016
Ultimately, it really is a hard industry to leave behind.
Thanks colleagues, for the farewell gifts; can i join & leave again so u can buy me more #StarWars? #PR #agencylife https://t.co/PS7HZTnubh

— Mohd Taufiq HZ (@yesthisTaufiq) October 7, 2016
So enjoy it while it lasts!