Digify, a digital agency owned by media giant GMA, has quietly introduced a new mobile app that can deliver supporting ad campaign content triggered not by what user's click or swipe but by the sounds around them.
Called Almost Real, it works much like popular audio recognition apps like Shazam or SoundHound, but instead activates interactive features on a second screen for linear content like TV programs.
When the app recognizes a unique sound marker, either audible or inaudible, in a TV show or commercial, it will deliver relevant content to a user's mobile device, anything from discount coupons, behind-the-scenes clips of a show or the lyrics of a song playing.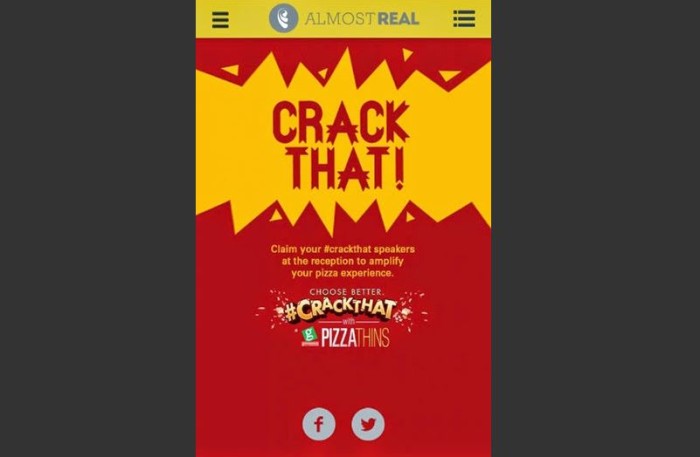 Digify said that the technology can be deployed even in live events and in retail stores, as seen in its debut last July in Crack That, a campaign by Greenwich Pizza to launch a new line of thin crust pizza. The press attending the event were asked to download Almost Real, which presented them with freebies upon hearing a special radio ad embedded with sound markers – in this case, the crunchy sound produced as Greenwich endorsers bit into a slice of pizza.
The agency, which bills itself as a "technocreative" said that Almost Real is just the first of many proprietary software it will launch in the next six months, on top of its growing portfolio of products, says Joan Bulauitan, general manager of Digify.
"The team has already developed a proprietary search engine, an ad serving platform, and a relatedness platform that are currently being used internally."
"While most production studios focus mainly on form-based app development, we'd like to focus more on quant-based solutions that would put to good use our highly skilled and growing R&D team.
At present, Digify boasts of a diverse mix of clients coming from different industries including retail, FMCG, electronics and media. So far, Almost Real has also been used by GMA shows that include State of the Nation with Jessica Soho, 24 Oras, Barangay LS 97.1 and mobile brand O+.